The Purple Weekend International Festival in Leon reaches its third decade of music by strengthening its link to our brand Estrella Galicia, which becomes part of the festival's name.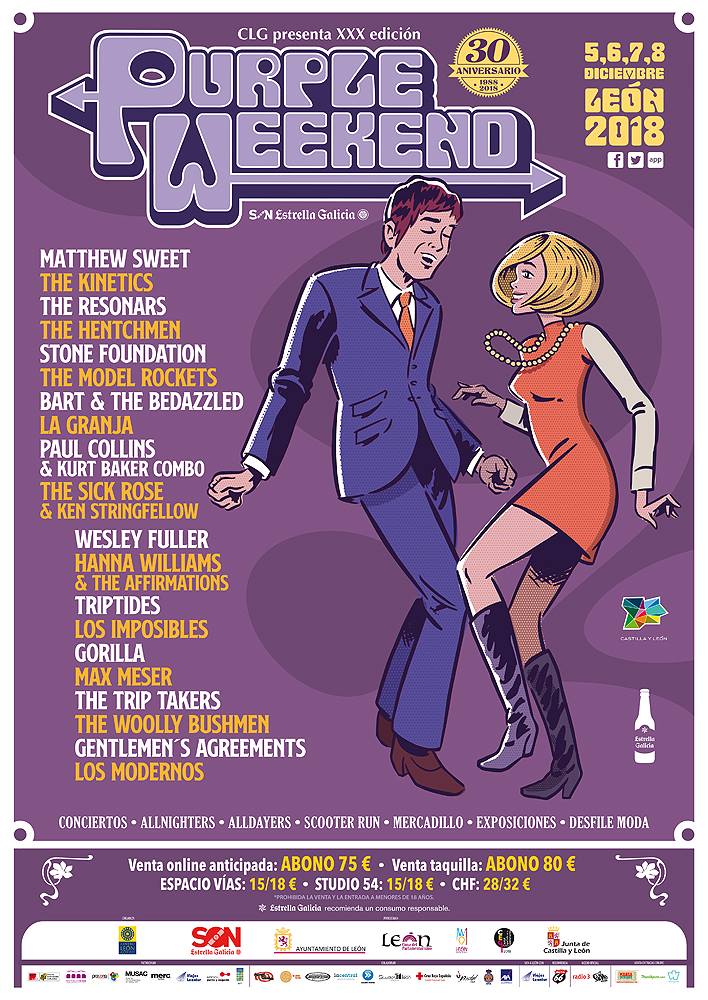 The Estrella Galicia Purple Weekend International Festival celebrates its thirtieth anniversary, becoming an established event on the cultural events in the León area.
From 5 to 8 December this classic, held at the start of December and a great lead up to Christmas, will fill the city with modern music, sixties beats, and R&B, attracts not only thousands of local music fans but also festival goers from all over Spain.
Purple Weekend is not only limited to an amazing line up, but it also becomes part of the characteristics of the city where it is based: its cultural traditions, tourist, historical and artistic attractions, its gastronomy, among many others.
In its thirtieth edition, Estrella Galicia Purple Weekend presents itself as a consolidated date on the calendar in Spain, which in recent years has experienced great exposure and become an important event. These repercussions has translated into, among other things, the consolidation of our Estrella Galicia brand as a sponsor, becoming part of the festival name and turning it into the
Festival Internacional Purple Weekend Estrella Galicia(Estrella Galicia Purple Weekend International Festival).
Line up for the XXX Festival Internacional Purple Weekend Estrella Galicia:
WEDNESDAY, 5 December
21:30 TRIPTIDES, MUSAC Free entry
THURSDAY, 6 December
1.30pm KEN STRINGFELLOW Albéitar Tickets €5
3pm GORILLA Glam Tickets 5€
5pm SICK ROSE & KEN STRINGFELLOW / LOS IMPOSIBLES Vías Tickets €15/18
9: 30pm HANNAH WILLIAMS & THE AFIRMATIONS / BART & BEDAZZLED Studio 54 Tickets €15/18
FRIDAY, 7 December
12.30pm LOS MODERNOS Vías Free entry
1.30pm THE TRIP TAKERS Albéitar Tickets €5
3pm THE WOOLLY BUSHMEN Glam Tickets €5
5pm MAX MESSER / LA GRANJA Vías Tickets €15/ 18
9pm STONE FOUNDATION/ THE KINETICS/ THE RESONARS Chf Tickets €28/32
SATURDAY, 8 December
1pm PAUL COLLINS Albéitar Tickets €5
3pm GENTLEMAN ́S AGREEMENTS Glam Tickets €5
5pm WESLEY FULLER / THE HENTCHMEN Vías Tickets €15€/18
9pm KURT BAKER COMBO&PAUL COLLINS/ THE MODEL ROCKETS/ MATHEW SWEET Chf Tickets €28/32