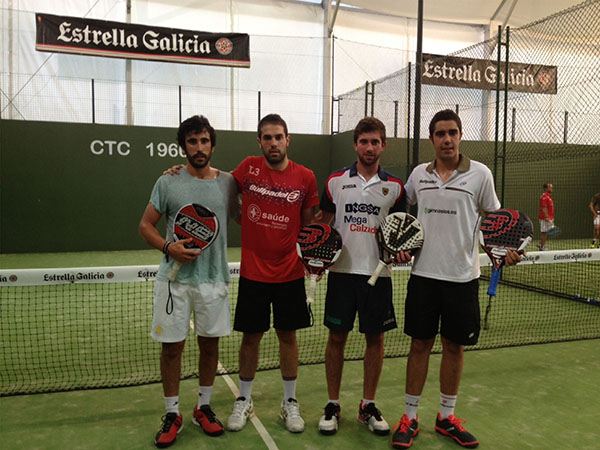 The tenth edition of the Estrella Galicia Padel Open, which was held at the Coruña Tennis Club and started on Wednesday 26th June, ended on Saturday afternoon.  This tenth edition has seen a record-breaking number of competitors, almost 900 among the nine categories, surpassing all expectations.  Over 500 matches were played on the five padel courts at the Club, attracting a large number of spectators at each match. 
Two top pairs played each other on Saturday afternoon in the final of the top men's category in one of the matches most anticipated by the fans: the top seeds, Martin Sanchez (Spanish National Champion in 2013) and Jorge Diaz (Runner-up in the Junior World Championship in 2009) had to battle against the pair seeded second in the draw, Fernando Aldao and Jorge Ramos, to achieve a 6/2, 6/4 result and win the title in that category for the second year running, the third for Martin.
Regarding the women, the competition was won by the third seeds and favourites for the match, Carolina Martinez and Marta Muñoz. They won the title without playing the final against Cristina Martinez de Luna and Marta Mariñas who could not attend for personal reasons.
The prize giving ceremony, which took place at 10pm on Saturday evening, was attended by our CEO, Ignacio Rivera, who was accompanied by a number of Coruña Tennis Club officials such as Mª Jose del Castillo, President, Alberto Tome and Julio San Juan, Vice Presidents, and Manuel de La Vega, Director of the club, who handed out the trophies to the Champions and finalists of each category.
Table of winners:
| | |
| --- | --- |
| First Women's Category | Carolina Martínez/Marta Muñoz CS 3 |
| Second Women's Category | Lucía Boudon/Obdulia Barreiro |
| Third Women's Category | Carmen Rellán/Laura López |
| +40 Seniors | Fernanda Domínguez/Julia Rodríguez CS 2 |
| First Men's Category | Martín Sánchez/Jorge Díaz CS 1 |
| Second Men's Category | |
| Third Men's Category | Diego Lozano/José Medina |
| Fourth Men's Category | Mario Vázquez/Óscar Bouzas |
| +45 Seniors | Ernesto de los Santos/Luis Fdez. Oro |