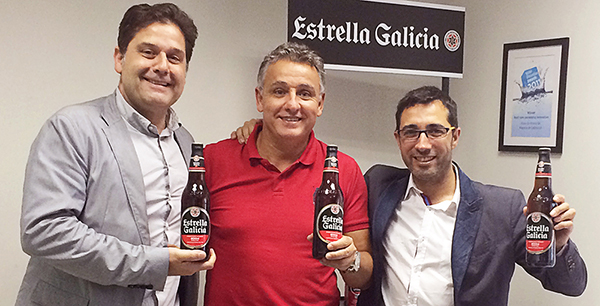 Our brand Estrella Galicia has started to make beer outside its sole industrial brewery in A Coruña, for the first time ever in its history. After 108 years of history, we have taken an important step forward by producing beer in Brazil, a market in which we have been present through our subsidiary Estrella Galicia do Brasil located in Sao Paulo which has become the base for our expansion in the Mercosur area.
After a long process, lasting over two years, during which our experts supervised production at a partner's facilities in Brazil to ensure that the productfulfils the established quality criteria, we have already launched the first beer wholly made and bottled in Brazil.
Brazilian consumers will now be able to find bottled Estrella Galicia in 600 ml format, a format which makes up 75% of the market there, reflecting the brand's willingness to adapt to the target market.  In the words of Ignacio Rivera, Hijos de Rivera CEO, "only by being close and understanding the market as the point of origin can we truly adapt to its needs and demands".
Brazil, point of departure for growth
In the last few years, Hijos de Rivera has designed an ambitious national and international expansion project which has meant that our company's products are present all over Spain as well as in over 35 countries around the world. The setting up of subsidiaries in key markets, such as USA, Japan, China, the Philippines and Brazil, has marked our international strategy,
Estrella Galicia do Brasil was created several years ago in order to lead, from Sao Paulo, the development of the company in the Mercosur area, given the commercial and geopolitical importance of this area. Currently, our subsidiary has a team of over 20 people who carry out the daily activity, which involves both off-trade and on-trade channels as first steps in specific areas in the Sao Paulo – Río –Portoalegre axis. The Trade Marketing Department is in charge of promoting the brand in Brazil and has already closed a deal, among others, with the well-known Brazilian rider, Álex Barros , to participate in this year's motorcycling season.
The beer market in Brazil
In the 19th century, beer production arrived in Brazil and it is currently the third largest producer, after China and USA. In 2013, the more than 50 breweries in Brazil, employing 1.7 million workers, produced 134 million hectolitres of beer. Consumption per capita is 62 litres per person/year, higher than the Spanish average of 47 litres per capita. Currently four large companies corner 96% of the Brazilian beer market: Ambev, Brasil Kirin, Grupo Petrópolis and Heineken Brasil.