The new plan includes a guided tour of our museum, a new experience that consists of a demonstration of beer pulling following in the footsteps of the 'perfect serve' of Estrella Galicia and a tasting of exclusive Galician cured produce -pork lacón, pork loin, free range rooster chorizo, cured cow jerky and cow sausage- paired with five of our top beers.
This experience, available from Tuesday, May 10, adds to the varied menu of experiences that our MEGA museum offers visitors, among which are beer pulling courses, unique tours, cheese tastings, and Galician preserves and a whole sensory universe to enjoy experiences at a 'mega level'.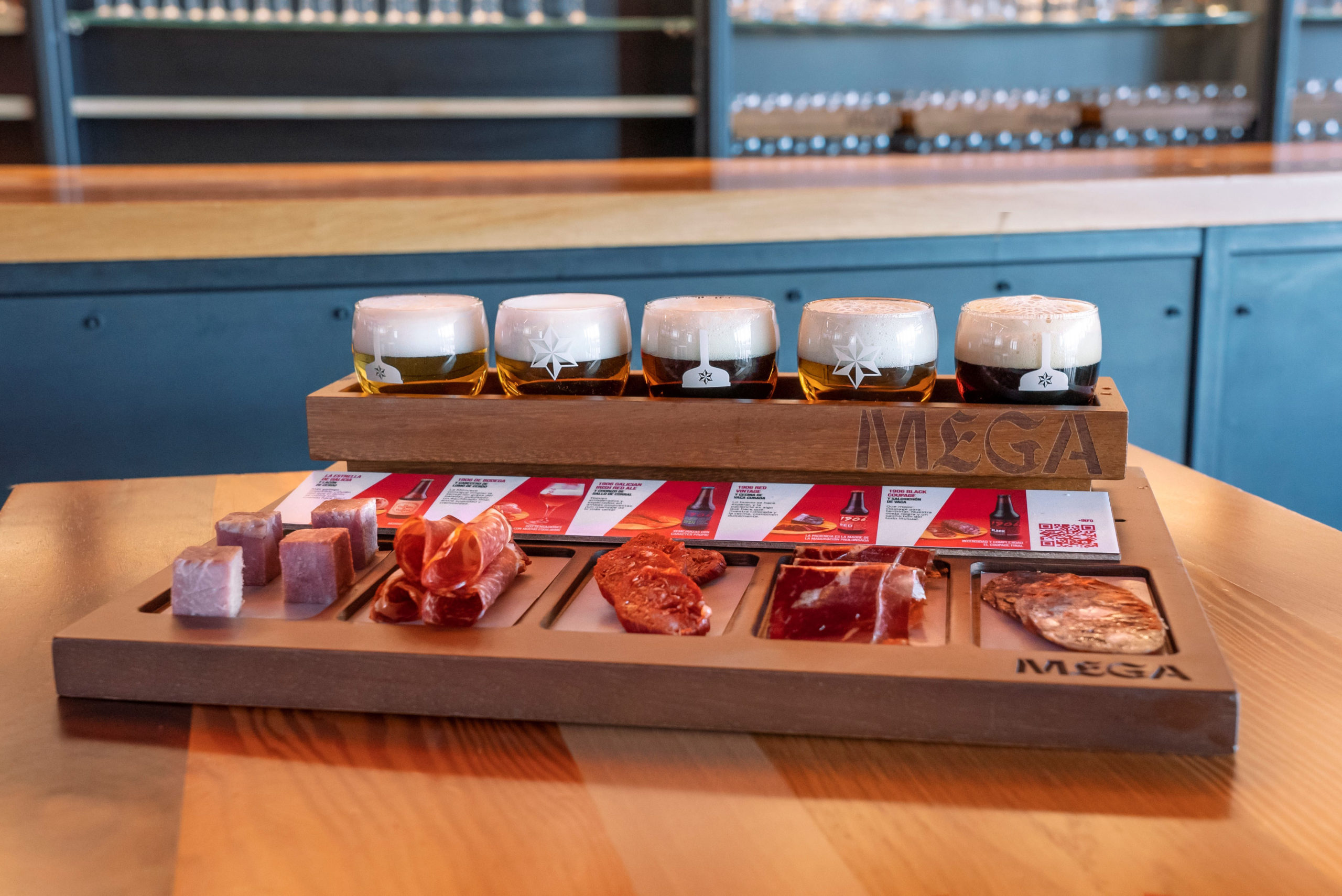 At MEGA we launch a new gastro-beer experience with 100% Galician flavour, thanks to which visitors can enjoy a guided tour of the museum that will culminate in a pairing of Galician cured produce, to taste together with five of the brewery's most representative varieties and with the most body: our Star of always , the 1906 Reserva Especial, the 1906 Galician Irish Red Ale, the 1906 Red Vintage and the 1906 Black Coupage. The selection of Galician meats includes exclusive native varieties of pork lacón, pork loin, free range rooster chorizo, cured cow jerky and cow sausage. True to our purest style, in addition to tastings, this new experience also includes a demonstration of the pouring of your own beer led by the best experts.
MEGA is a unique space, a way of understanding, perceiving and observing our world, the World of Estrella Galicia that is based on the origin, tradition and identity of a Galician brand with over a century of history. Beyond the exhibition grounds, visitors can also learn about beer art at our museum and discover Galician gastronomy and culture in an experiential and interactive way thanks to a varied range of plans and experiences: guided tours, beer pouring courses, pairings and tastings, a Beer Ecotour through the Mariñas Coruñesas, a 1906 tour through the city of A Coruña to discover the most historical side of our oldest beer, or an experience of Relax and Beer, as well as exhibitions and concerts, among many other offers.
Book your ticket for the new guided tour with 5×5 print and pairing of Galician cured: https://entradas.mundoestrellagalicia.es/es/424-web-individual/4972-visita-guiada-con-tiraje-y-maridaje-de-curados-gallegos