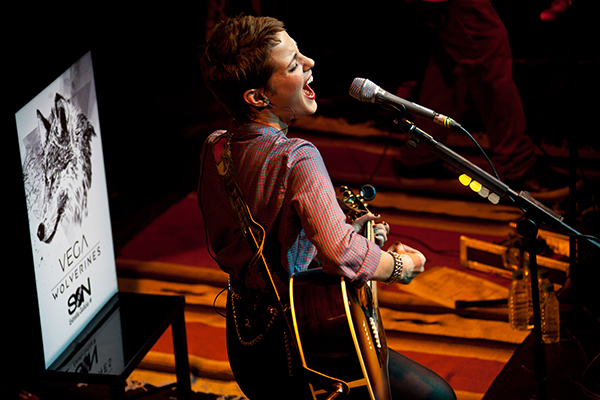 +info son.estrellagalicia.es/Vega
Vega returns and does so with a bang. Last Friday 25 October, her Wolverines SON Estrella Galicia tour kicked off in BUT (Madrid) with a sellout concert and the venue packed to the rafters. An enthusiastic audience joined in with all the songs, and Vega presented all the tracks from her latest studio album, "Wolverines", one by one. This new winter tour, with the support of SON Estrella Galicia, will take Vega and her band to a number of Spanish cities, such as Granada, Malaga, Zaragoza, Bilbao, Santiago and Elche amongst others. 
Advance ticket purchases for Vega's brilliant live show can be made on Ticketea as well as on Vega's webpage, and will also be available at the door on concert days:
15 Nov – Granada – La Planta Baja
16 Nov – Málaga –  Eventual

21 Nov – Santiago de Compostela – Sala Capitol

28 Nov – León – Gran Café de León
29 Nov – Bilbao – Sala Rockstar
30 Nov – Zaragoza – Casa del Loco
13 Dec – Elche – Subway The Pop
14 Dec – Almería – Madchester Club
The strength of Vega and her band live is more evident than ever on this latest album, which has reached number 2 on Spain's best-selling records list- the best position of all her career. And this she has managed to do on her own record label: La Madriguera Records.
The singer took the plunge and created her own record label, La Madriguera Records, at a time when the record industry is in recession. With "Wolverines" on La Madriguera Records, Vega demonstrates that it is possible to self-produce, away from the big record labels.
On this album, the singer from Cordoba has had the collaboration of great names like Raphael, with whom she duets on the track that carries the album's name, "Wolverines"; with Budiño on "Martes", and Arturo Sandoval on "El Funeral". This fifth studio album was recorded in Los Angeles (USA), and co-produced by Sebastian Krys and Vega herself.