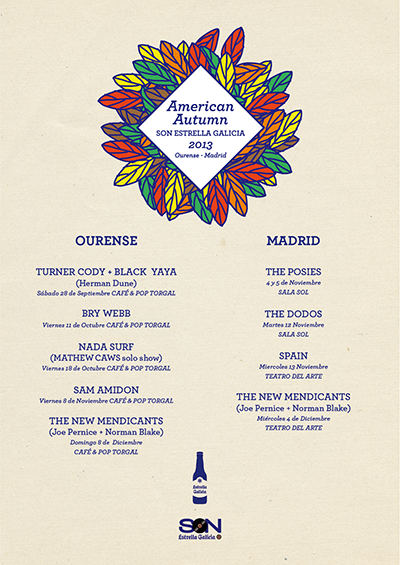 In autumn of 2009, the American Autumn Season, an independent American music season in a small city, and in a venue with a capacity of 100 people, was born in the Café & Pop Torgal (Ourense) within SON Estrella Galicia.
From its birth, the season has promoted in Ourense a line-up of unprecedented quality, supported by a public that is centimetres away from the performers. This proximity is one of the features that makes American Autumn unique, together with the excellent welcome that both the public and the organisers offer the musicians in the Torgal.
The season had modest beginnings, but its promoters and the Ourense public have made it grow year by year. A key moment for the growth of American Autumn was the addition of the Torgal to SON Estrella Galicia in 2011, which has resulted in both the season and the venue being able to count on increased resources for what had seemed until recently almost impossible in Ourense, which is for artists that only go on tour to large cities to stop off in the Torgal.
Some of the concerts that have been part of the American Autumn since 2009 have been those by Victoria Williams, Damon and Naomi, Laura Gibson, Eef Barzelay, Micah P Hinson, Kathryn Calder, Jad Fair, Chuck Prophet, Howe Gelb, Mark Eitzel or the Will Johnson, Patterson Hood and Craig Finn joint tour, Damien Jurado, Basia Bulat and Ken Stringfellow.
The 2013 edition is on its way, and SON Estrella Galicia American Autumn grows!! This year, the season will have an extra venue in none other than in the city of Madrid in the SON EG venues!
In keeping with the original idea, the season will hope to transfer to the big city the essence that has had such good results in Ourense.
It is, undoubtedly, an exciting venture that will leave neither public nor performers indifferent.
Date: October- December
Location: Ourense and Madrid
Tickets: to be announced