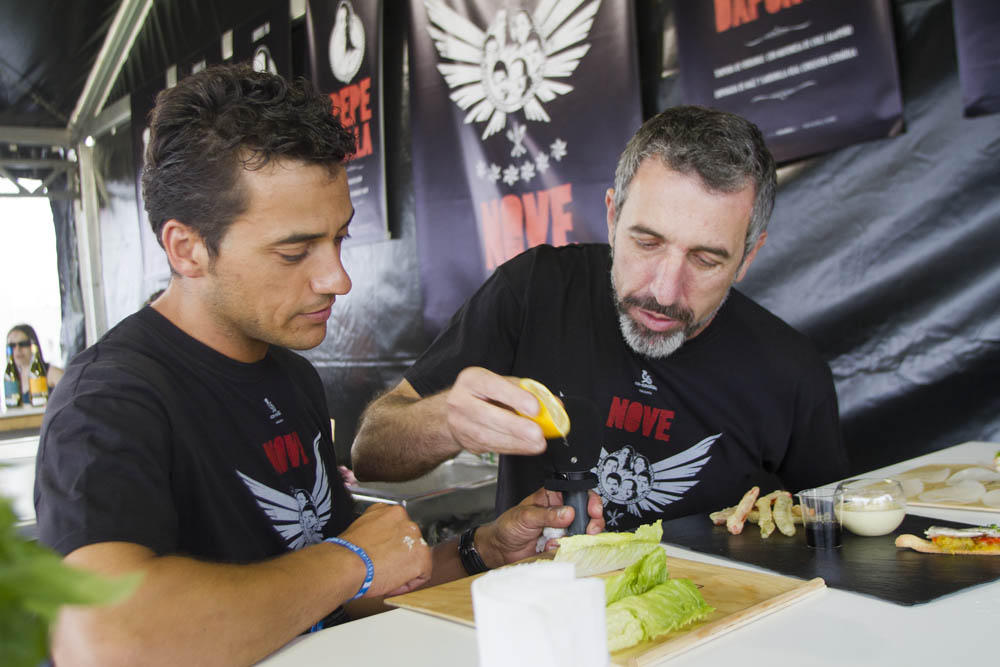 PortAmérica Rías Baixas, alongside Hijos de Rivera, once again hosts the perfect fusion between rhythm and cooking: Co-cooking Showrocking with a line-up of 12 international chefs with 8 Michelin stars between them, and a Galician representation who, led by  Pepe Solla will delight those who attend with unique "pinchos" created especially for the Festival.
All of this shoulder to shoulder with 24 students form Galician catering colleges who will have a unique opportunity to learn alongside some of the great names thanks to our   Co-cooking Programme
Yayo Daporta (Restaurante Yayo Daporta), Beatriz Sotelo (A Estación) and the Panamanian Mario Castrellón (Humo/Maito, Panamá),  join Alberto González (Silabario Tui), Xosé Cannas (Camiño da Serpe), Javier Olleros (Culler de Pau), Héctor López (Spain), Lucía Freitas (A Tafona), Diego López (La Molinera), Iago Pazos (Abastos 2.0),  the Mexican chef Roberto Ruiz (Punto MX) and the Peruvian chef  Estanis Carenzo (Chifa) to offer the public at the PortAmerica Rias Baixas Festival a rounded haute-cuisine experience.
Yayo Daporta
One of the youngest chefs to be awarded a Michelin star and linked to PortAmérica from the first edition. He will be participating as a jury member in the second season of   Top Chef along with Alberto Chicote and Susi Díaz.
Beatriz Sotelo
Michelin star since 2013, although in 2008 she won the Cocinero del Año  (Chef of the Year) contest in Spain. Her cuisine is avant-garde, although unmistakenly with Galician roots.
Mario Castrellón
The chef and owner of the Humo and Maito restaurants arrives from Panama, named as one of the top 10 in Latinamerica by the Real Academia Española de Gastronomía (Spanish Royal Academy of Gastronomy). He will offer experimental cuisine, creative and always using local ingredients.
The 12 chefs will be accompanied by 24 students from Galician catering colleges (double the number of 2013), who will have the chance to increase their knowledge by sharing experiences with 12 of the best chefs from around the world. On this occasion, the participating students are from the Vilamarín Catering School (Ourense), the Carlos Oroza Catering School (Pontevedra), and the Santiago de Compostela and Vigo Catering Schools.
 The Hijos de Rivera Co-cooking Programme is an example of a collaborative training initiative, aimed at students and professionals of the restaurant sector. Through a number of initiatives, it contributes to training highly qualified professionals, by encouraging the exchange of knowledge between the great names on the international scene and young Galician stars.   For the students, it is a wonderful opportunity to share a kitchen with 12 renowned chefs and starting off in the profession learning from the best.
Related Posts
The Hijos de Rivera Co-cooking Programme returns to PortAmérica
Co-cooking at Degustta Incoruña
Co-cooking at the Fórum Gastronómico de A Coruña
Youtube videos
Co-cooking at Degustta Incoruña
Pablo Gallego at Co-cooking Degustta Incoruña
Cortes de Muar at Co-cooking Degustta Incoruña