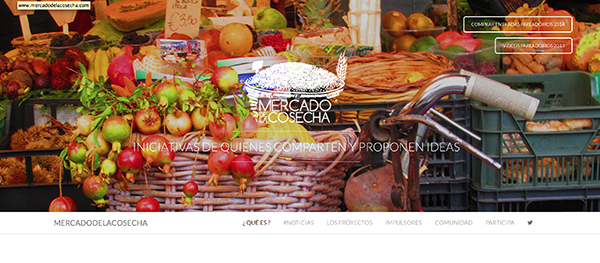 As of a week ago the Harvest Market has a new webpage, available on www.mercadodelacosecha.com.
The previous webpage has been redesigned to offer the user a simple and more visual experience when searching for information about the programme, from what the Harvest Market is, to latest news, the projects it carries out, community members, and the people behind it all.
The user can access the contents faster thanks to the addition of a horizontal menu which indicates the different sections, and vertical scrolling which aids navigation. The design, cleaner and on a white background, plays on images to transmit elegance and modernity.
The launch of the new page coincides with the announcement of the second edition of the Harvest Market Roundtables, so it can serve as a promotional tool for the event we are holding on April 23 at 5pm in the Teatro Rosalia (A Coruña).
During this second edition, the Roundtables will allow us to enjoy the personal stories of the eight speakers, who attempt to add value to our natural resources and make rural Galicia  a way of life.  Among them will be  Idoia Cuesta, Santiago Pérez, Xosé Lois, Miguel Arean, Nuria Varela, Germán García,  Miguel Soto, and Dominique Roujou.
Tickets for the event (15euros) will be on sale on the Servinova web, and all the money from ticket sales will go to the Fundación Juana de Vega to help finance its "Programa de Apoyo al Emprendimiento Agroalimentario" ("Support Programme for Food and Agricultural Entrepreneurship").