Our winery, the oldest of Ribeira Sacra is a reference in the sector for its commitment to innovation and recovery of traditional grape varieties that have practically disappeared.
Ponte da Boga has been working on the research of the Lexítimo Blanco grape in its terraces for almost 10 years, allowing it to be the first winery in Ribeira Sacra to launch a wine made 100% with this variety.
This winery's 2020 harvest is coming to an end with a balance of 330,000 kg.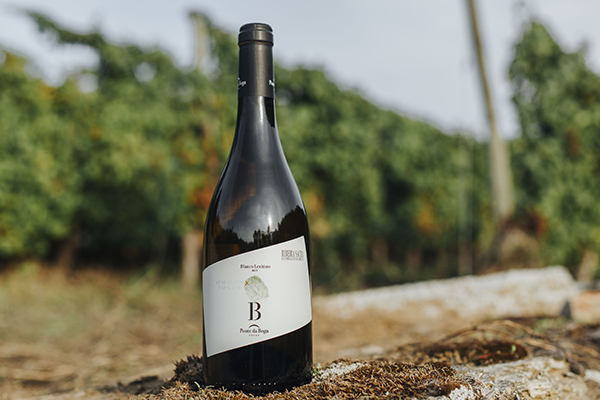 Ponte da Boga, our  emblematic winery in the Ribeira Sacra, has been developing an ambitious recoveryproject of traditional grape varieties for years, which has allowed it to present successive alternatives ofsuggestive and unique wines over the years, positioning itself as a reference in Galicia when it comes topairing origin, tradition and innovation. Ponte da Boga's firm commitment to research into different varieties continues to bear fruit and allows it to present an exclusive new white wine.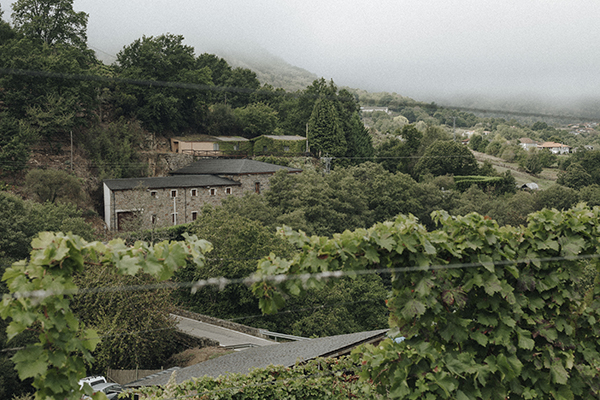 This time, Ponte da Boga presents "B", Blanco Lexítimo, the first wine of this grape variety at Ribeira Sacra, almost extinct for half a century and that the oenologists of the winery decided to study on anexperimental plot set up almost 10 years ago. After years of research and experimentation to obtain this grape's  greatest potential in the vineyard, its wine is launched, a new Galician white aimed at those who want to discover this "new" traditional variety, practically disappeared until now.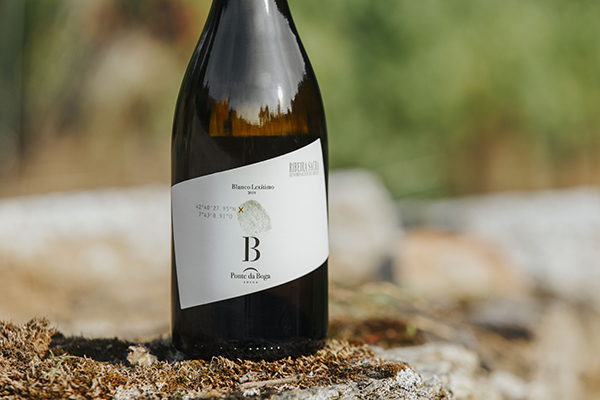 "B" Cosecha 2019 is 100% fruit of the perfumed and limited Blanco Lexítimo grapes, originating in a plot located at 500 metres of altitude in the heart of the Ribeira Sacra. This first and exclusive production of only1750 bottles has gone through cold maceration, pressing and subsequent fermentation in steel tanks and oakbarrels, followed by aging on lees for 5 months.
The result is a pale greenish yellow wine, with a great aromatic intensity in which the citrus notes overlap withwhite flowers and stone fruits, mixed with lightly toasted and smoky notes. On the palate it brings touches oflime, orange or apricot. Ponte da Boga Blanco Lexítimo is perfect to accompany fish, poultry and seafood
This exclusive wine is labelled using Mineral Paper, free from the use of chlorine, water and woodpaste. The label features a green fingerprint, which metaphorically represents both the unique character of thisvariety, as well as the effort and talent used for its survival and winemaking. In addition, thanks to the use of thermo reactive inks, when the wine reaches its optimum consumption temperature, the label reveals thecoordinates where the Ribeira Sacra plot from which the grapes is located.
Blanco Lexítimo
This type of grape is part of the traditional varieties of the northwest of our country. Blanco Lexítimo is especially associated in Galicia with the Betanzos area, although other areas have had this variety, but it has always been of scarce cultivation.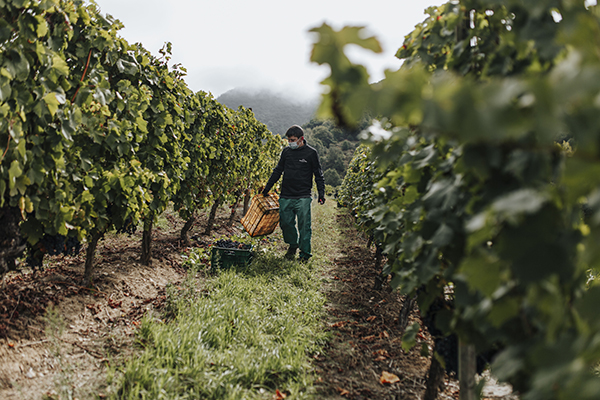 For approximately 10 years, the commitment of institutions such as the Juana de Vega Foundation andresearchers from EVEGA, CSIC and USC, as well as wineries with a recovery vocation such as Ponte daBoga, has been aimed at the study of the characterisation of this grape variety, concluding its enormouspotential for the production of quality white wines due to its high concentration in aromatic compounds.
All this work has led to the recent registration of Blanco Lexítimo, also known as Raposo in Barbanza and Albarín Blanco in Asturias, in the Registry of commercial varieties and as a preferred variety in DO Ribeira Sacra.
2020 Harvest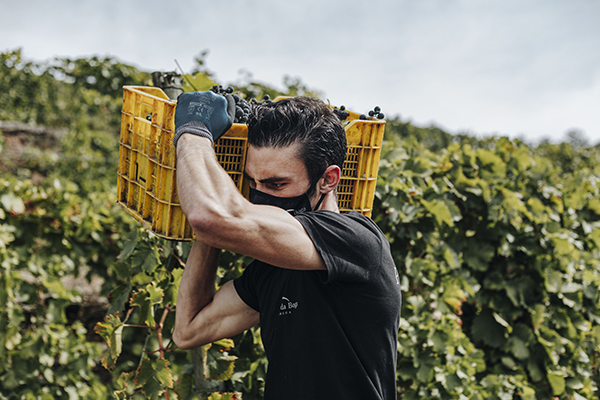 Ponte da Boga is bringing the 2020 harvest to an end which has a total collection of 330,000 Kg of grapes of seven different varieties: Mencía, Brancellao, Merenzao and Souson in reds, and Godello, Albariño and Blanco Léxítimo in whites.