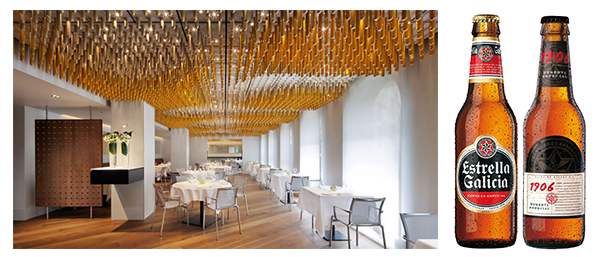 Our products increase their presence on the British fine dining scene thanks to the efforts made by our distributor in the UK, PLB. This work has been recognised by one of the most prestigious industry publications here in the UK, Harpers, who has awarded our partner a prize in the "Distribution Companies" category for its notable commercial results in the last twelve months.
As an example of the path that our products are taking in this country, Estrella Galica and 1906 Reserva Especial will be available to diners at Juan Mari Arzak and his daughter Elena's new restaurant in London.  Named Ametsa, the premises opened its doors to the public in April in the discrete luxury hotel, The Halkin, in the elegant neighbourhood of Belgravia.
Ametsa, which means "dream" in Basque, has already become one of the most popular restaurants in London. On its menu one can find dishes with obvious roots in traditional Basque cuisine which combine the taste of the land with the most avant-guard gastronomy, and which can be enjoyed accompanied by one of our beers.