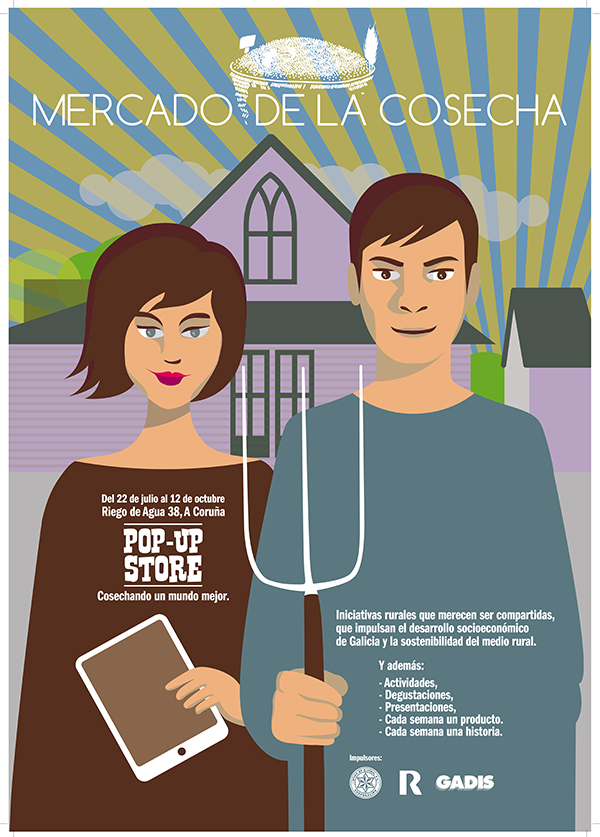 This summer our CSR project, the Mercado de la Cosecha launched its first Pop-Up Store. An awareness raising space in the heart of A Coruña at which some of the most innovative projects of our countryside were present. It is estimated that during 12 weeks over 50,000 people visited this space in calle Riego de Agua to discover the different entrepreneurial initiatives and their products.
Every week brought a new image and protagonist. The store has seen a great range of projects, such as Cortes de Muar cheeses, Ecocelta earthworm compost, the eggs and jams of Pazo de Vilane, Olei oils, the games of Buxaina, Daveiga mariñeira biscuits, the cream biscuits of Granxa Maruxa, contemporary basket-making of Idoia Cuesta, the ecological cheeses, yoghurts, and milk of Arqueixal, Maeloc ciders and Ponte da Boga wines, all of them innovative initiatives that are worth sharing.
The Mercado de la Cosecha Pop-Up store was a project driven by Corporación Hijos de Rivera, Gadis and R.
The Pop-Up Store has been an unstoppable succession of activities and surprises that has had the support of both A Coruña citizens and the large public that has visited the city this summer.