Matt Thomas has been chosen by the fans of Monbus Obradoiro team as Estrella Galicia Player of the month in December, the second time he has been given this award this season.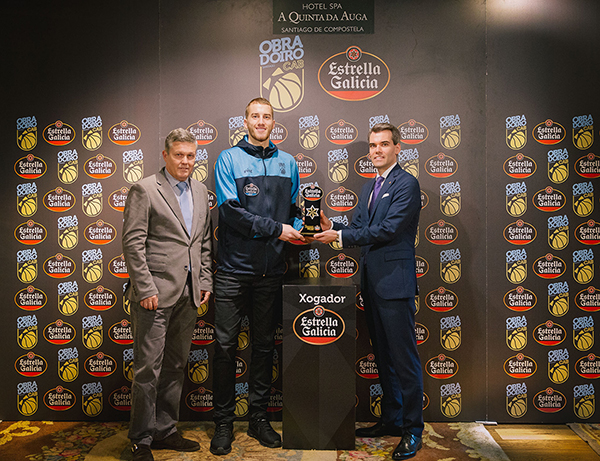 The award for the Estrella Galicia Player of the Month for December from the Monbus Obradoiro team has been given once again this season to the North American shooting guard, Matt Thomas.
The decision to give him this award was taken by the team's fans through online voting on the club's social media. Of all the votes on Twitter and Facebook, 84% were for Matt Thomas, while 10% were for Nacho Llovet and the remaining 6% for Eimantas Bendzius.
The player stated at the presentation that he was "very grateful for the award. It has been a complicated month for the team with regards to results but I think that, despite that loses, we have worked hard to be better."
The team obtained its eighth win last Sunday in Bilbao, and Thomas is sure that the key was "to stick together as a team and work hard. Leavng the first few minutes aside, we were able to turn the game around and play really well to win."
Speaking about the following match on Sunday, at 6pm, against Valencia Basket at Sar, the shooting guard from the Obradoiro explained that "the stats are there. They have a good number of wins, they're a good team and won the league last season. Our away match against them was a good match for us, on an equal footing until the very last minutes. Now they are going to visit us, and we'll have our fans and I'm sure it's going to be a great match. They demand a great effort form their opponent. We need to come out, work as hard as possible, and simply try to do what we know in order to win the match."