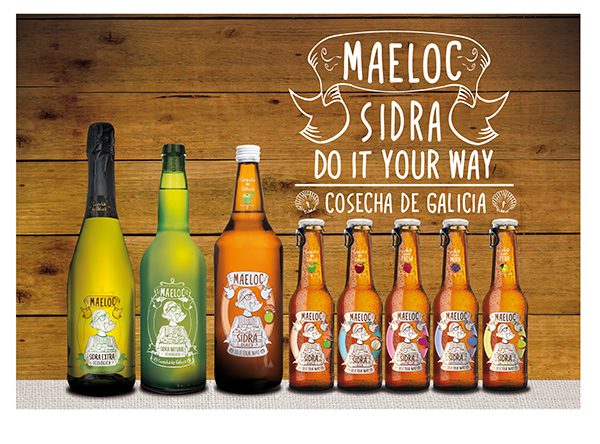 Custom Drinks continues to support the development of Galician cider through its brand Maeloc, which will, from now on, substitute Manzanova in all its formats.
After the launch last Christmas of the Ecological Exrtra Cider, it now introduces an extension to the range for the food and beverage industry, with new formats and flavours: Maeloc introduces Pear, Blackberry and Strawberry flavoured ciders for the first time in Spain.
In its announcement, Maeloc focuses on the fact that the cider is made wholly from Galician apples, via the slogan "Cosecha de Galicia" ("Galician Harvest") transmitting the notion to the market of its commitment not only to quality products, but Galician products.
The new range will be sold in 20cl and 33cl (both easy-open), 70cl and 75cl formats, as well as in 30 litre barrels. The Galician company, which belongs to the Hijos de Rivera group, produces the product with Galician apples and sells it via its distributor.
Maeloc represents personality and a "your way" individuality, under the motto "Do it your way", to transmit the emotional values that imply a new way of enjoying this cider and that links the Camino de Santiago with the latest trends in consumer behaviour, based around the "Do it Yourself" idea.
The launch campaign, is supported by a consumer awareness campaign on packaging and social media, as well as on maelocway.com
It is already available in Gadis supermarkets, Eroski hypermarkets in Galicia, and will be available soon in Hipercor and El Corte Ingles throughout the country.