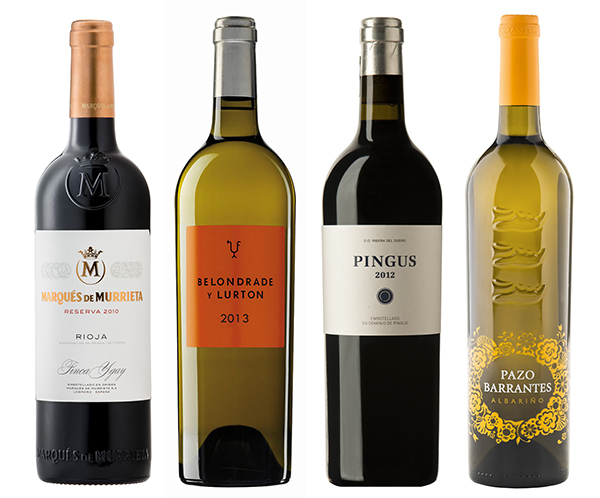 Hijos de Rivera SAU is the new exclusive distributor in Galicia of the wines from the Marqués de Murrieta, Dominio de Pingus, Pazo de Barrantes and Belondrade wineries. In this way, the Galician company will sell all the wines from these wineries in the region: the DOCa Rioja, from the Marqués de Murrieta winery, Ribera del Duero such as Dominio de Pingus, DO Rueda de Belondrade, and those from DO Rias Baixas, from the Pazo de Barrantes winery.
Cult wines, such as Pingus or that which has been awarded Best of 2015- Best Winery in the World, Marqués de Murrieta, presents a range of wines of the highest positioning which will shortly strengthen its presence on the Galician market. Hijos de Rivera, therefore, reinforces its wine portfolio with the introduction of nationally and internationally renowned references.
Dominio de Pingus presents some of the rarest and most exclusive wines in the world under the famous Danish oenologist Peter Sisseck. Pingus, the most exclusive and expensive wine in Spain, which has been recognised repeatedly by being awarded top marks, 100, by the prestigious Parker list, is made in the DO Ribero de Duero, along with Flor de Pingus and PSI.
In the case of Marqués de Murrieta, a DOCa Rioja winery, we can find benchmark labels such as Castillo Ygay, Dalmau, Marqués de Murrieta and Capellanía; and some of the best albariños in the world come from Pazo de Barrantes (DO Rias Baixas), such as Pazo de Barrantes and La Comtesse.
The DO Rueda is added to the list in the shape of the benchmark family run winery, Belondrade, with a 100% Verdejo wine, Belondrade and Lurton, which has been named one of the best white wines in Spain.
Ignacio Rivera, CEO of Hijos de Rivera SAU, stated, "we understand that distribution is a fundamental means to progress, so we are wholly committed to generating a portfolio of the highest quality for our clients, and I feel that these wines fit in perfectly with our premium positioning philosophy".