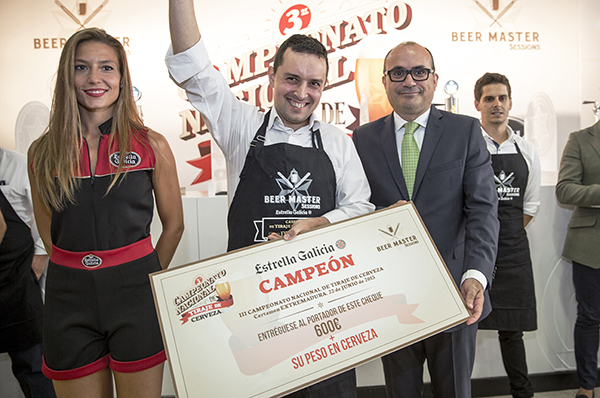 A total of 30 aspirants from the different parts of Extremadura participated on Monday 22 June in the Cantabria Estrella Galicia Beer Pulling Championship which took place in the Gran Hotel Don Manuel in Cáceres.
After different stages in which they had to demonstrate their skills when serving beer, both draught and bottled, and answer questions about the world of beer, Francisco Javier Refolio, manager of the Corregidor restaurant in Cáceres has been declared Best Beer Puller in Extremadura. Santiago Bravo, owner of the pub El Pilar de Navas in Madroño (Cáceres), has been named runner-up. Both will represent the region in the National Championship which will take place in 2016.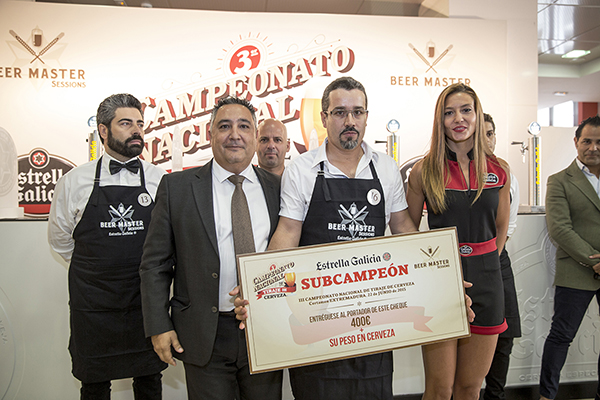 Francisco Javier Refolio, Beer Pulling Champion, has been in the world of catering, a family trade, all his life. He studied in the Castellon Catering College, and currently, as well as managing his restaurant, is a catering teacher at different training courses organised by the Junta de Extremadura. He confessed feeling over the moon after winning and admitted that it had come as a complete surprise due to the high level shown by other contestants at the contest. For him, the Championship is " a great initiative by a Spanish beer to acknowledge the work carried out by professionals when serving beer".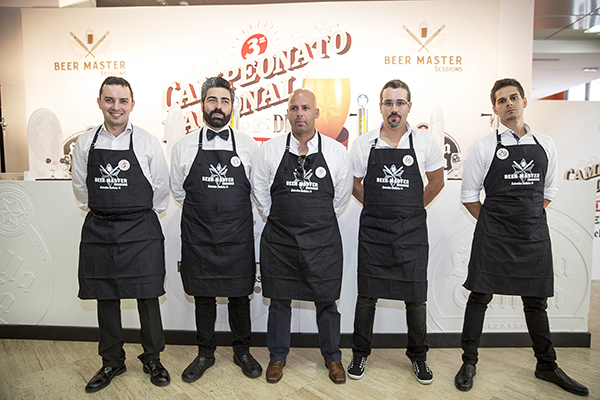 The three runner-up prizes were won by Luis Saussol from the pub Munich in Mérida, Francisco Calamonte from La Centinela in Montijo (Badajoz) and Rubén Rocha from Clandestino Slow Food in Mérida.
The jury evaluated the work carried out by the participants highly and the high level of execution. The atmosphere during the competition was very exciting and the public present encouraged the participants throughout.
This regional phase will allow the Champion and Runner-up to opt for the national title to be held in early 2016.
The jury, which was made up of professionals from the world of beer, catering and restaurant sectors, had to work hard to evaluate the quality and excellence of the aspirants' service, as well as their knowledge about beer. It was made up of Xabier Cubillo de la Hoz, Market Quality Expert at Hijos de Rivera (Chairman of the Jury), Elena Moreno from the Technical Department of the Cáceres Capital Española de la Gastronomía 2015, Lucía Muñoz,  Head of the Escuela Superior de Hostelería y Agroturismo of Extremadura (ESHAEX) and Nico Jiménez, Ham Cutting Champion of Spain 2002 and Guiness World Record holder.
The five finalists were given their weight in beer, and a cash prize of €600 for the winner and €400 for the runner-up. There were also three consolation prizes of €150. All the finalists were given a diploma accrediting their participation, and the champion and runner-up go straight through to the National Championship, with paid travel and expenses.