Hijos de Rivera and Real Club Deportivo have agreed to extend their sponsorship agreement for the next 4 seasons through the Estrella Galicia and Cabreiroá brands.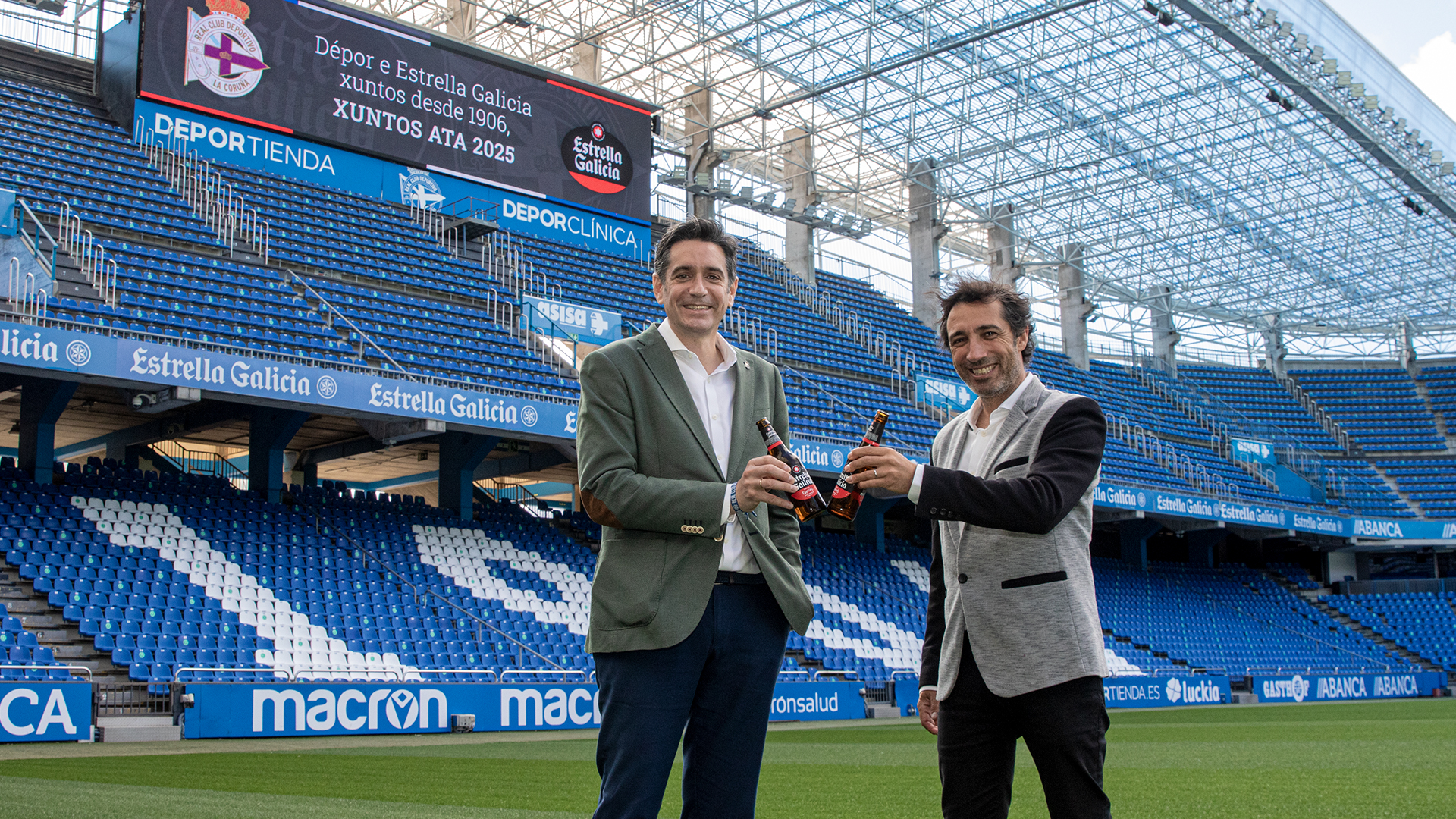 This morning at the ABANCA-RIAZOR Stadium, Estrella Galicia and Deportivo have sealed the renewal of their sponsorship agreement by which our company will continue to accompany the team in its trajectory in Primera Division RFEF, the third category of national football. Estrella Galicia will continue to be the main sponsor of the Club and its image will continue to be present on the front of the white and blue shirt, as well as Fabril, while Cabreiroá will remain as official mineral water of the team and official sponsor of its lower categories, of the women's teams, as well as also joining the Dépor Genuine, featuring on the back of the shirt, until June 2025.
Both David Villasuso, General Director and board member of the Real Club Deportivo, and José Cabanas, CMO of Hijos de Rivera, expressed their satisfaction with the agreement reached.
David Villasuso, General Director of Deportivo, showed his "gratitude to Hijos de Rivera, and the satisfaction of Real Club Deportivo, for extending a link that, with the history accumulated since 2008, and historically during the previous decades, has become more than just a sponsorship. It is the natural relationship between two of the main brands and symbols of a city and a region that is especially proud of Deportivo and Estrella Galicia as a symbol of a way of being, of living and of resisting in difficult times for all".
José Cabanas, CMO of Hijos de Rivera, said: "We are delighted to continue with our firm commitment to Galician football and expand our relationship with the Real Club Deportivo de La Coruña, icon of the city that saw the birth of both entities in 1906. Tradition and origin have always defined our shared values, but to these we now add a spirit of resilience in the face of adversity that we are sure will help Depor get back to where it deserves."