We launch a campaign which features on our returnable bottles with valuable information on the reduction of carbon footprint provided by these formats and raise awareness about their use.
The stamp will reach the on-trade channel during the coming weeks on the collar labels of the Estrella Galicia bottles and the back labels of 1906 and will be gradually incorporated into all the brands of Hijos de Rivera.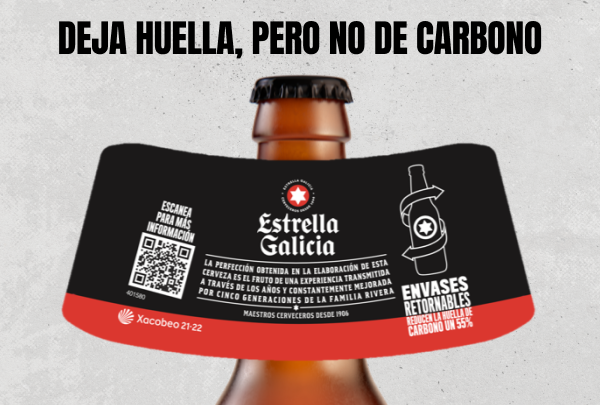 Estrella Galicia will include a stamp on all its returnable bottles to encourage the use of these glass formats. With this, we intend to bring consumers the necessary information to raise awareness of the importance of promoting the circular economy to reduce the carbon footprint and advance in the fight against the climate emergency.
It is a QR code that, when scanned, will lead directly to a web page where users can verify, with data, how the consumption of this type of format contributes to reducing the carbon footprint by 55%. Consumers can discover in a simple way through infographics what the emissions are, during all stages of production and distribution, of bottled, barrel or Cellar beers. Simultaneously,  they can compare the difference in emissions that exists between these different types of packaging and those that are non-returnable, which generate a greater impact on the environment.
This stamp, which will reach the on- trade channel in the coming weeks, will be visible on the collar labels of the returnable bottles of the Estrella Galicia family  from May, as well as on the back labels of 1906. From then on, it will be incorporated gradually and permanently into the rest of the company's brands. In addition, we will carry out various awareness-raising campaigns through signs, posters and other actions in hospitality establishments.
"Having rigorous and easy to understand information is a good way to be aware and make better purchasing decisions. We are non-conformist by nature and we work to make data available to everyone and help reduce our carbon footprint, generating a greater positive impact on the planet and the environment every day," says Ramón de Meer, Marketing Manager of Hijos de Rivera.
This initiative is part of the positive impact strategy of Hijos de Rivera, an ambitious plan that combines the care and regeneration of the planet, with the protection of people, the defence of origin and joint work with its allies. Thanks to awareness initiatives and reduction of carbon footprint, our company continues to launch initiatives that allow progress in the implementation of circular economy and the fight against the climate emergency.