Today at the facilities of MEGA Mundo Estrella Galicia we presented the limited edition Growler Estrella Galicia designed by Sargadelos, the firm with over 200 years of history, which combines avant-garde, design and quality in its handmade porcelain in Galicia.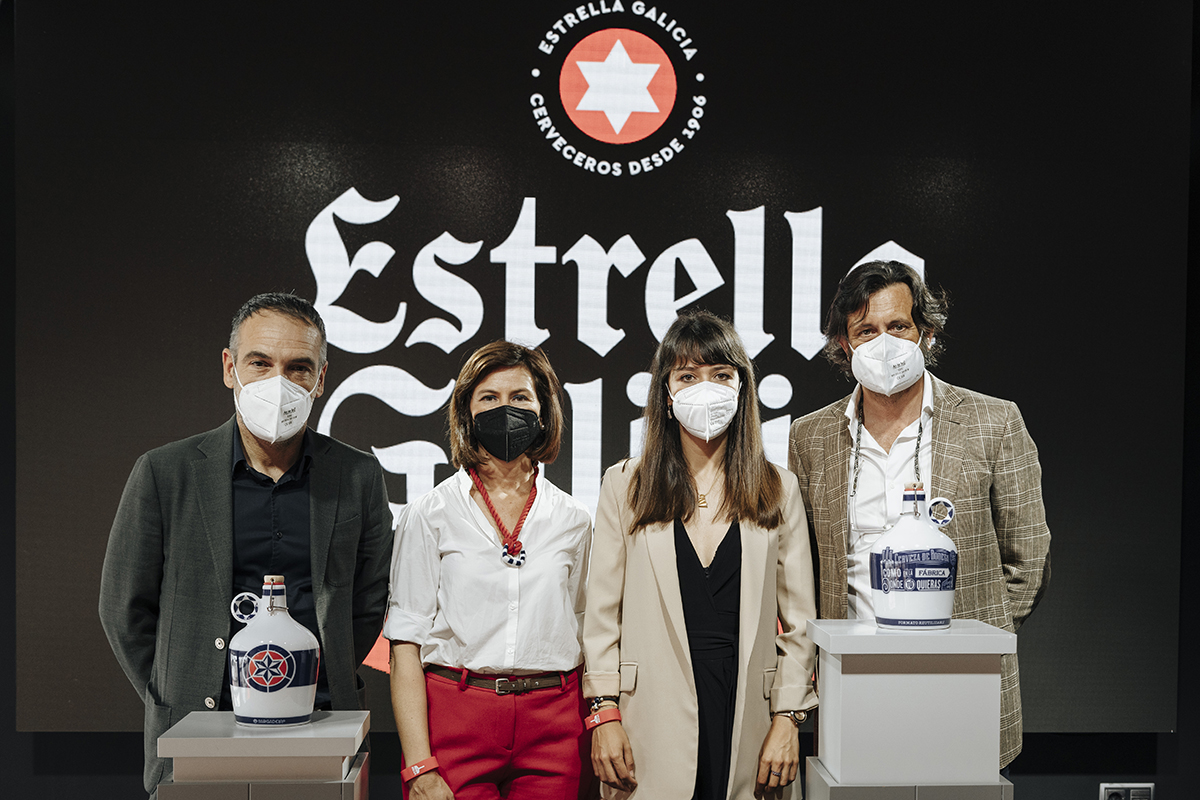 In our constant enthusiasm to look for new formulas that surprise our customers and consumers, we present our Growler format of Cerveza de Bodega with a limited edition in collaboration with Sargadelos.
The Growler from Cerveza de Bodega Estrella Galicia is an impulse tool and sales channel for its Cerveza de Bodega customers that allows to promote the take-away and delivery formats, going for atake-awaybeerconsumption format that promotes circular economy and sustainability. A novelty with which we propose new business possibilities to our customers, adapting to new trends and market demands.
The Growler dates back to the nineteenth century, when containers, usually made of galvanized steel, were used to transport beer from one place to another. With the growth of the worldwide brewing universe, a wide variety of accessories appeared for lovers of craft beer, however, the undisputed element has been the returnable container to transport the freshly served beer called Growler.
Hijos de Rivera recovered this format throughout 2020, as a reusable glass format with a capacity of 2 L. (Steine bottle) and 1 L. in which you can dispense both Estrella Galicia Cerveza de Bodega and Cerveza de Bodega 1906. The system consists of a dispensing machine, the Growler or reusable container and cleaning equipment.
Today, at the MEGA Mundo Estrella Galicia facilities we presented the special edition Growler Estrella Galicia by Sargadelos, an exclusive format designed by the firm with over 200 years of history that combines avant-garde, design and quality in its handmade porcelain in Galicia. A special edition of which 300 units will be manufactured and which will be on sale in the museum shop.
Hijos de Rivera and Sargadelos add a new alliance, which adds to the already existing collaborations between both Galician firms with great tradition, as is the case of the brewery's characteristic and well-known tap columns Esfinge and Zigurat, among others, work of the Galician porcelain company.
In the words of Marcos Lodeiro, Director of Cerveza de Bodega of Estrella Galicia: "We opened a new channel with an exclusive product and in a differentiating format. The new Growler of Cerveza de Bodega will allow the consumer to enjoy our Cerveza de Bodega anywhere and offer new possibilities to our customers, to whom we provide all the necessary elements for its marketing and all our knowledge about the point of sale", and adds in relation to the launch of the limited edition Growler by Sargadelos: "It is a real honour to be able to count on the experience and know-how of a firm like Sargadelos , to which we feel very united after so many years of collaboration, in the launch of this special edition and limited edition piece Growler Estrella Galicia by Sargadelos".
On behalf of Sargadelos, Sara I. Méndez, Head of Design, commented that: "This project is a good example of how the collaboration between two historic Galician companies results in innovative, competitive and top-quality products. With our traditional and artisanal manufacturing process we obtain unique pieces of very high quality porcelain, with a whiteness, translucency, strength and resistance that also stand out for their aesthetics and elegance" and added: "The design of the Growler is inspired by forms of traditional Galician pottery. It reproduces aesthetic and formal codes of the Sargadelos brand, such as the undisputed cobalt blue or the representative circular shape of the handle".
Sargadelos worked on the creation of a unique design that would bring together the identities of the two brands in order to achieve a useful and aesthetic object adapted to the tastes and lifestyles of people today.
The Growlers have been manufactured with special craftsmanship, using ceramic pastes obtained from noble raw materials (kaolin, quartz and feldspar) that have been decorated, with the usual experience and skill of the workers of Sargadelos, with the distinctive cobalt blue and red of both brands.
The firing of these pieces is carried out in high temperature ovens that exceed 1400ºC, a process that gives the piece unbeatable technical characteristics and a practically zero porosity, which makes this Growler become extremely hygienic, allowing to preserve the freshness of the beer longer. That is why we trust that it is the right container that preserves the freshness and flavour of the good beer of Estrella de Galicia.