Once again, Estrella Galicia wants to be close to the Valencian public during the most emblematic festivity of the region by putting 700,000 bottles on the market with an exclusive design that pays homage to the Fallas. This special edition will be available until the end of March in bars and restaurants in the Valencia region.
Estrella Galicia is also supporting the street fallas as main sponsor of the Falla Malvarrosa and by collaborating with the L´Antiga de Campanar and Exposición fallas.
Fallas 2018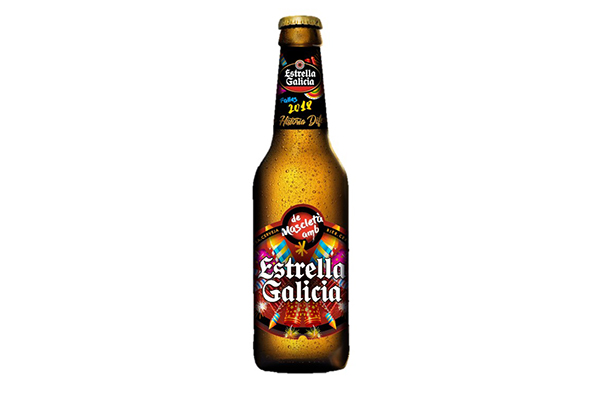 As the month of March approaches, the preparations for the most eagerly awaited festivity in Valencia, the Fallas, begin. And Estrella Galicia joins in with the celebrations, as has become tradition, by launching a special, limited edition of its beer to pay homage to all those who enjoy these weeks with enthusiasm. Estrella Galicia will also be visible at street level as main sponsor of one of the most emblematic fallas in Valencia, the Malvarrosa, as well as being present at the L´Antiga del Campanar and Exposición fallas that will take part in the special section of the fallas monuments.
De Mascletá amb Estrella Galicia
With the claim De Mascletá amb Estrella Galicia (At the Mascletá with Estrella Galicia) the design for this new special edition was presented, which features fireworks and the explosion of colour that best represents this festivity.
A total of 700,000 bottles of Estrella Galicia Fallas Special Edition 2018 will be made available until the end of March in bars and restaurants in Valencia as well as in some areas of Castellón and Alicante.
"This is the seventh year running that Estrella Galicia has decided to accompany Valencians during the "Fallas" with a special edition of our beer. It is our way of thanking all the consumers from Valencia that have always given us very warm welcome," said Santiago Miguélez, Estrella Galicia Marketing Manager.
This personalization is part of a wide range of special editions developed by Estrella Galicia with motifs that reflect popular traditions, events or festivities in Spain.