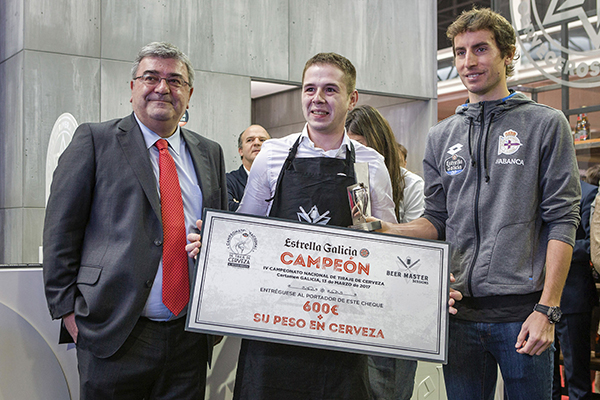 Our beer brand Estrella Galicia is looking for the Best Beer Puller in Spain for the fourth consecutive year, and this morning we held the Galician edition, within the frame of Forum Gastronomico in A Coruña, where we named the Galician Beer Pulling Champion.
The barman Rubén Vilariño, from Bodeguilla de San Lázaro (Santiago de Compostela), has been selected by our jury as the Best Beer Puller in Galicia, and was handed the prize by Enrique Teijo, National Sales Coordinator, and the football player Pedro Mosquera on behalf of the Real Club Deportivo de La Coruña. The runner-up was Iván Eijo, from Mesón Río Sor (Ortigueira), who was handed the prize by Juan José Merlos, our A Coruña Representative, and Deportivo player Florin Andone.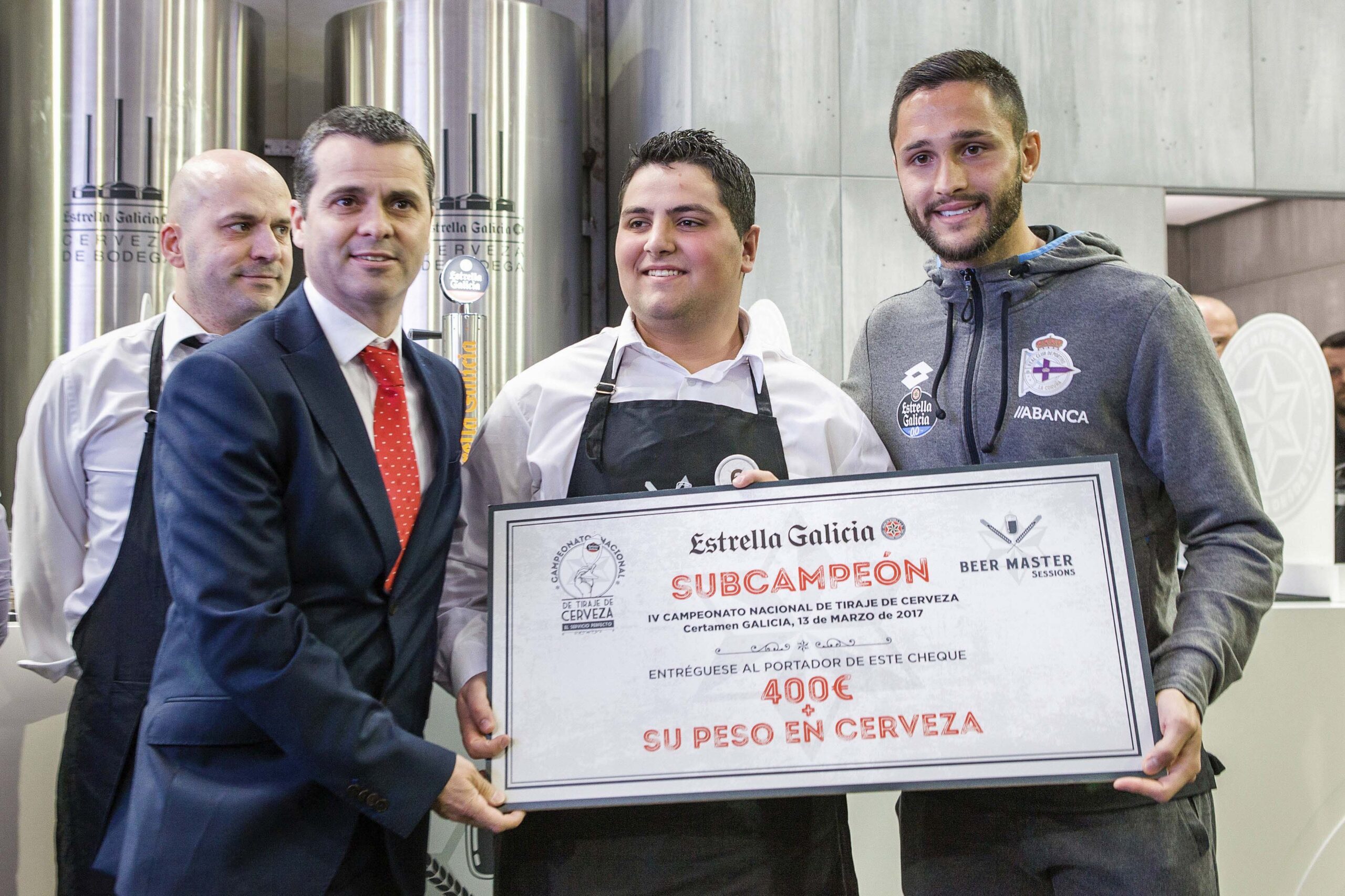 The contest started at around 10.30am, at our stand at the Fórum Gastronómico in A Coruña, attracting the attention of all the attendees of the fair on the second day. 30 barmen from all over Galicia took part, ready to walk away with the title of "Mejor Tirador de Cerveza Estrella Galicia" (Best Estrella Galicia Beer Puller) but, finally, the winner was named as Rubén Vilariño, who beat all the other contestants.
Now, he will have the opportunity to compete with the best beer pullers from the other regions in Spain in the Grand Final of the IV Campeonato de Tiraje de Cerveza (IV Beer Pulling Championship), which will be held on 25 April at Salón Gourmets in Madrid. He will be accompanied by Iván Eijo, runner-up in this stage of the contest, in Galicia. The five finalists received, in addition to a cash prize (€600 for the winner, €400 for the runner-up and three consolation prizes of €150 euros each), their weight in beer.
Jury and prizes.
The members of the jury, who were in charge of evaluating the skill of the contestants, are professional experts in serving beer, catering and gastronomy and based their final decision on the quality, efficiency and speed of the serve, as well as the aspirants' knowledge of beer culture.
The members of the jury were José Manuel García, director of the Radio Galega programme "Come e Fala"; Gustavo Rey, last year's Galician champion; Fernando Iglesias, head of the Company's Beer Culture, and Xabier Cubillo, Beer Culture expert and president of the jury.