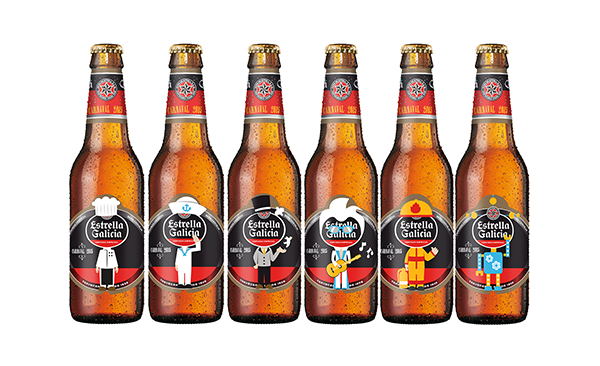 Carnival 2015 is here and, for another year, our brand Estrella Galicia wants to celebrate it by launching a new limited edition of its bottles in fancy dress for the occasion.
Our brand will boast six different designs with the aim of celebrating this popular event with its consumers in a fun and informal manner, as it has been doing for a number of different emblematic and traditional celebrations.
For these new bottles, our beer has chosen six very popular fancy dress costumes. Throughout the month of February the labels will be dressed up as a fireman, a chef, a magician, a sailor, a rock star and a robot, giving a humorous twist to the bottles very much in tune with this time of the year.
3 million 33cl. bottles of this new Carnival Estrella Galicia limited edition will be produced, and will be available on-trade throughout Spain from this very week until the end of the Carnival holiday.