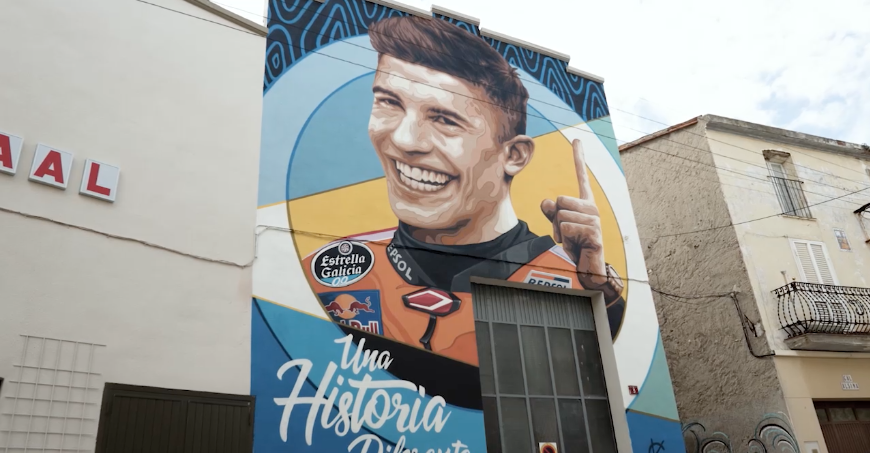 We pay homage to our seven times World Champion via a work of urban art by the artist Kram in Penelles, a village in Lleida that has become a tourist spot, as it has more graffiti than streets. This initiative, developed by the digital department, will also feature on social networks and is an original way of showing consumers that we are " a different story".
The little picturesque village of Penelles adds the image of the seven times world champion to its walls. Our brand, Estrella Galicia 0,0has decided to pay homage to Marc Márquezwith a piece by the urban artist Kram on the wall of the house where the town's mechanic used to be.
The Lleida village of Penelles has just welcomed a new famous neighbour to its walls: the seven times world champion, Marc Márquez, who from a few days ago covers the wall of the house where the village mechanic used to be, thanks to the Estrella Galicia 0,0 tribute.
To do so, we have collaborated with Kram, one of the most well known urban artists in Barcelona, who has invested 170 spray cans and 30 hours of work in orderto leave the image of Marc Márquez on 60 m2of façade.
If the little village of Penelles, in the province of Lleida, is well known for something it is for over 80 works of graffiti that live on its streets and add colour to over 900 m2of façades. This village, with just 474 inhabitants, has become a tourist spot thanks to the  GarGar festival  that is held there every year and brings together around 25 urban artists who use the façades of the buildings as a canvas, leaving its streets full of colour.
This mural with the smiling face of Marc Márquez seals the close relationship between Estrella Galicia 0,0 and the rider that goes back to the 2010 season, in which he won his first title in the motorcycling World championship, in the125 cc category.
We clearly understand that «our philosophy is to support young talents and accompany them on their road to success, and Marc Márquez's career is an example of tremendous effort and overcoming of obstacles for all sportspeople." We constantly say that Estrella Galicia 0,0 is "a different story", so our tribute to Marc also had to be something different, original, and that withstood the test of time.