Our Estrella Galicia 0,0 brand will continue to accompany Honda Racing Corporation for the next two seasons.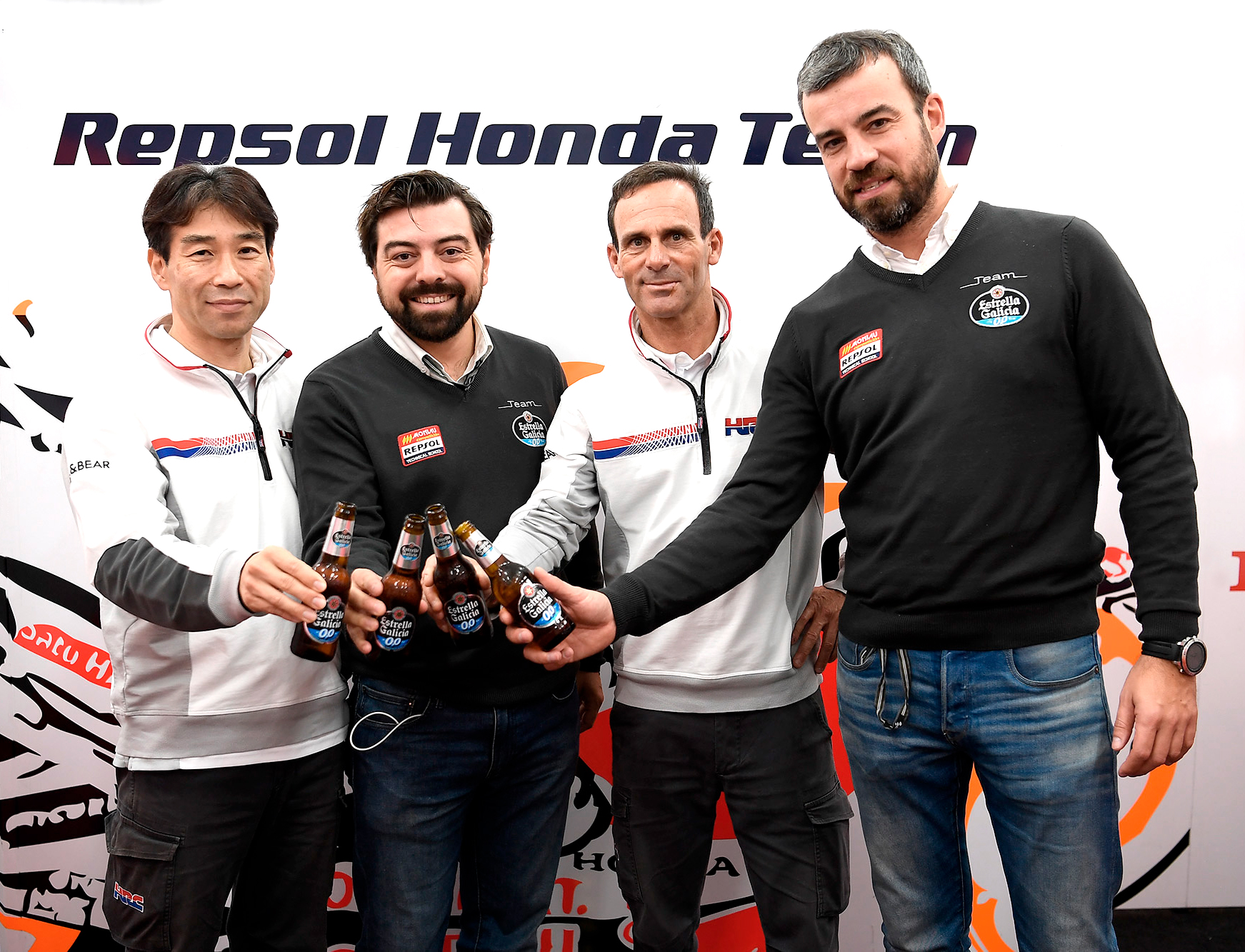 Estrella Galicia 0,0 has been the sponsor of the Repsol Honda Team in the Motorcycling World Championship since 2013 when Marc Márquez made it to the top category. In this time, our brand has seen a season of growth and triumphs alongside the team on each podium and Championship.
For the next two years, the Estrella Galicia 0,0 logo will feature on the Repsol Honda Team equipment, and on the racing suits of Marc Márquez and Jorge Lorenzo, reinforcing our support for visibility on an international scale that the MotoGP World Championship currently offers us in over 30 countries.
The Marketing Manager of Estrella Galicia, Santiago Miguélez, and the Head of Sports Sponsorships, José Villanueva, met with Tetsuhiro Kuwata, HRC General Manager Race Operations, and Alberto Puig, Repsol Honda Team Manager, with the aim of closing this deal.
Tetsuhiro Kuwata: "We are extremely happy to continue working with Estrella Galicia 0,0, which has been with us since the 2013 season and shared with us 5 world titles. Their support in the competition on different levels reflects HRC's own beliefs so we are delighted to carry their logo on our equipment. Our sponsors and partners are carefully selected with the idea that they can share our values, and contribute to the aim of becoming champions once again."  
José Villanueva: "We are delighted to renew our alliance with HRC, an incredible voyage that we started together in 2013. It is not easy to stay at the top year after year in such a competitive environment as MotoGP and for Estrella Galicia 0,0 it a privilege to be part of the best team on the grid. We are sure that many more successes await, and I cannot imagine a better way to celebrate this agreement than by toasting with an Estrella Galicia 0,0".