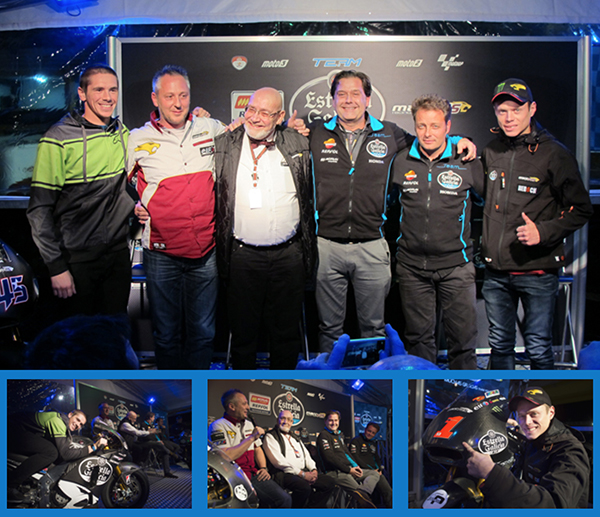 The Circuito de la Comunitat Valencia was the venue that Estrella Galicia 0,0 chose to present its new projects for the next three years. Hand in hand with Monlau Repsol Technical School and Marc VDS, Estrella Galicia 0,0 will compete with its own teams in the FIM CEV Repsol –Moto3- and in the World Championship, in the Moto3, Moto2 and MotoGP categories.
Team Estrella Galicia 0,0, therefore, will be present in all categories in the Championship alongside two first class teams: Monlau Repsol Technical School in Moto3, under the management of Emilio Alzamora and Marc VDS in Moto2, and MotoGP under the direction of Michael Bartholemy. The constant evolution of the motorbikes in the Moto3 and MotoGP projects will be under Honda HRC.
Team Estrella Galicia 0,0 will have some of the best riders on the starting grid, with a successful background:
MotoGP
 Scott Redding
 Moto2 World Championship Runner-up in 2013.
Moto2
 Tito Rabat
 Moto2 World Champion 2014.

Álex Márquez
 Team Estrella Galicia 0,0, rider, current leader in the championship in Moto3 category, rookie of the year 2013 and CEV Champion in 2012.
Moto3 
Fabio Quartararo
 Junior Team Estrella Galicia 0,0 rider and FIM CEV Moto3Repsol Champion 2014 and 2013
.
Jorge Navarro
 Team Marc VDS rider in Moto3 and second in the FIM CEV Moto3 Repsol standings.
FIM CEV Repsol
Moto3
 Aron Canet 
Winner of the Pre Moto3 Spanish Cup in 2013.
Jaume Masia
. Rider who comes from the Rookies Cup who was with Estrella Galicia 0,0 in 2011 with 80cc bikes.
Sena Yamada
 Champion in the Japan National Championship in the Moto3 category, in 2013 and 2014.
At the event, held this afternoon in the hospitality area of the brand, Ignacio Rivera, Hijos de Rivera CEO, was present, along with Marc van der Straten, President of Marc VDS, Emilio Alzamora, Team Principal of Team Estrella Galicia 0,0, and Michael Bartholemy, Team Principal of Team Marc VDS. All have highlighted the value of joining forces in order to consolidate their sporting projects in the World Championship, offering support to the riders of the highest level, beside Honda HRC.
Ignacio Rivera – Hijos de Rivera CEO 
"To dream is free, and sometimes it's profitable, and this project is a dream come true. Since we began to participate in the World Championship in 2010, the Estrella Galicia 0,0 project has done nothing but grow. From then until 2015, we will be present in the FIM CEV Repsol with three riders and in all the categories of the MotoGP World Championship, with Fabio Quartararo and Jorge Navarro, in Moto3; Tito Rabat and Álex Márquez in Moto2 ; and Scott Redding in MotoGP. The projects in FIM CEV and in the Moto3 category of the MotoGP World Championship would not have been possible without the collaboration of Monlau Repsol Technical School. The jump to Moto2 and to the premier class is viable alongside Marc VDS. With the riders we have, I have no doubt that these will be three very interesting years".
Scott Redding 
"I rode for four years with Marc VDS in Moto2, so returning to this team is like coming home. A great union has been created during this year that I've been away, and in which I won the Moto2 World Championship, and they will also have a great team to go up to MotoGP. The joining of forces between Estrella Galicia 0,0 and Marc VDS, already very strong, results in an even stronger structure. I'm really looking forward to trying the brand new Honda RC213V on Monday."
Tito Rabat
 "Next year I will be the first rider in the team to defend the leading position in Moto2 and once again fight to obtain the title. They say that to keep the title is more difficult than to win it for the first time, but I can't wait for the challenge. I hope that we can repeat this year's success, hand in hand with this new structure which has been created with Estrella Galicia 0,0".