The three world champions got together on Monday to meet the press, united by the values of hard work, quality, talent and dedication, at an act organised by their sponsor: Estrella Galicia 0,0.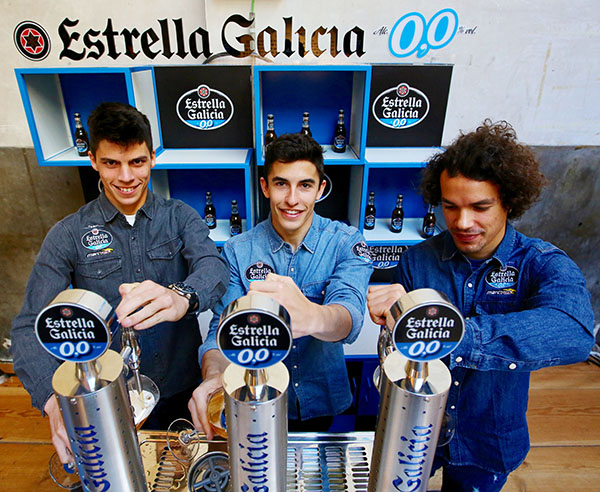 On Monday, the modern venue Impact Hub in Madrid was where our brand has once again held a unique event, proudly bringing together the current world champions in all the MotoGP categories.
During the act, José Cabanas (CMO of Hijos de Rivera) shared the brand's history in supporting motorcycling for the last eight years, during which it has accompanied and helped to develop the riders' talent with whom it shares the values of quality and talent.
Such is the case of Marc Márquez who, with six world champion titles in just six years, is undoubtedly the universal Estrella Galicia 0,0, ambassador, and has been joined by the current Moto2 champion, Franco Morbidelli and the Moto3 champion, Joan Mir in this incredible sporting project.
Together, they revealed this season's funniest anecdotes, and goals and dreams they want to fulfil in 2018, and also answered questions from journalists present at the press conference on Monday.
After this latest meeting with the press, the Team Estrella Galicia 0,0 is eager to start the new and exciting season of the MotoGP World Championship.
José Cabanas – CMO, Hijos de Rivera
"The world of motorcycling reflects many of the values that Hijos de Rivera S.A.U has grown with, and has developed as a company, and it is also what these great riders represent with regards to hard work, ambition, and overcoming obstacles on a daily basis. Estrella Galicia 0,0 has been able to create a family around it that helps them, because we are here with these three champions, but behind each one of them there is a team that is constantly helping them to reach their goals. The motorcycling World Championship is a great communication platform that allows the public to discover our brand and, over all, to discover how we do things. From our humble position, we try to help to create riders that will one day be world champions, going through all the levels that it implies. Perhaps the best summary of it all is the passion we share with these riders. They live to be the best."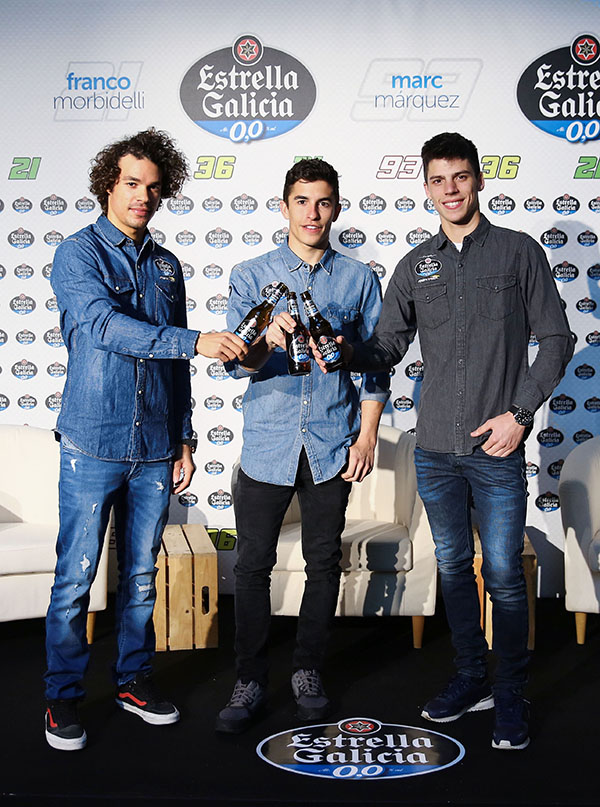 Marc Márquez –MotoGP World Champion
"The Estrella Galicia 0,0 family lives everything with the same passion, character and ambition as the riders when we go out onto the track. We began to work together in Moto2, my dream was MotoGP, and they wanted the best beer. It is a long relationship and I think that they are doing a fantastic job. MotoGP is important, but the base level must not be forgotten. I certainly don't forget it, because if it hadn't been for the promotion prizes, I wouldn't be where I am. Almost all the riders come from humble backgrounds and I think that with their support, Estrella Galicia is doing a great job".
Franco Morbidelli –Moto2 World Champion
"In Moto2 being constant is very important, and being at the front in each race has allowed us to achieve our goals. Now, reaching MotoGP knowing the Estrella Galicia 0,0 team, and the way it works, makes the change much smoother. Right from the first test, it has all gone really well and has gradually improved with the help of my new technical team. I like working with Estrella Galicia 0,0 because they are vey good at what they do. This is my second year with them, and I feel like part of the family".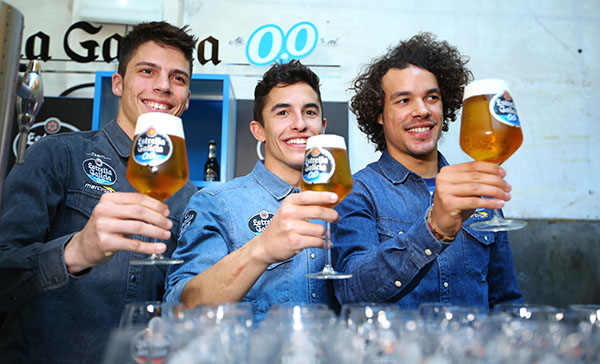 Joan Mir –Moto3 World Champion
"I feel that I am part of a great structure. The relationship that exists with the whole Estrella Galicia 0,0 team is good, too – and it's really important to have a good atmosphere. What really surprised me is that right from the start everything has turned out far better than I had expected. The first time I tried Moto2 was like love at first sight. It all went really well, I really enjoyed myself and I think that's really important. The four test days that I have had so far have been very positive and I can't wait to get on the bike again. Now I need some time to unwind on holiday, which will help me to face the next season. I am delighted to be part of the Team Estrella Galicia 0,0".