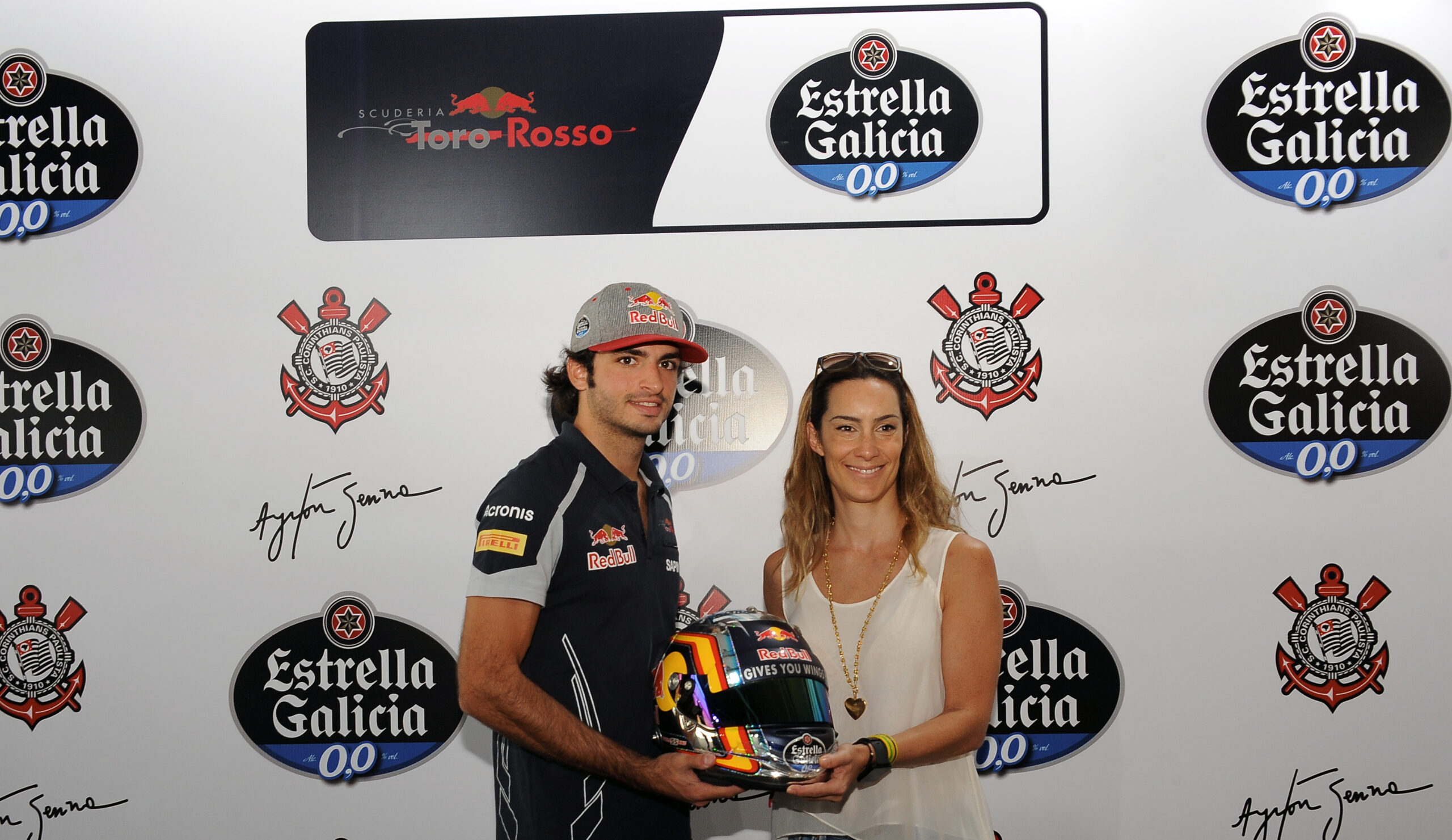 This morning Estrella Galicia 0.0 gathered Formula 1 drivers Carlos Sainz and Dnaiil Kvyat at the Corinthians stadium (the Arena Corinthians). Both have had to demonstrate their football skills in the Timao stadium.
Through this action the brand wishes to pay homage to the three-time world champion Formula 1 driver Ayrton Senna, donating an autographed helmet and shirt to the institute named after him (Institute Ayrton Senna), which will be auctioned to raise funds. This homage is not a coincidence, as Senna was a strong supporter of the Corinthians and, to the date, is still an idol for many young drivers like Sainz and Kvyat.
The goal of the Ayrton Senna Institute is to create opportunities for children and young Brazilians through education, which is in line with Estrella Galicia 0.0's commitment to training young Formula 1 drivers.
Carlos Sainz stated that "It is an honour to donate this helmet to the prestigious Ayrton Senna Institute and to be able to do so during the week of the Brazilian Grand Prix is certainly very special. I've always liked watching Formula 1 videos of historical moments and undoubtedly Ayrton is the best in history".
The Ayrton Senna Institute
For over 20 years the Ayrton Senna Institute has contributed to create opportunities for children and young Brazilians through education. It works to develop the capabilities of new generations, preparing them to respond to the demands of life in the 21st century in all its dimensions.
Inspired by the desire of the three-time Formula 1 world champion Ayrton Senna to build a better Brazil, the Institute, in cooperation with public managers, teachers, researchers and other organizations, works to improve teaching policies and practices.
The Foundation is always in an on-going innovation process, consistently researching to respond to the challenges of a world in constant change.
The Ayrton Senna Institute is present in 17 states and in over 660 districts, collaborating in training over 70 thousand professionals each year and supporting the education of over 1.9 million students per year.