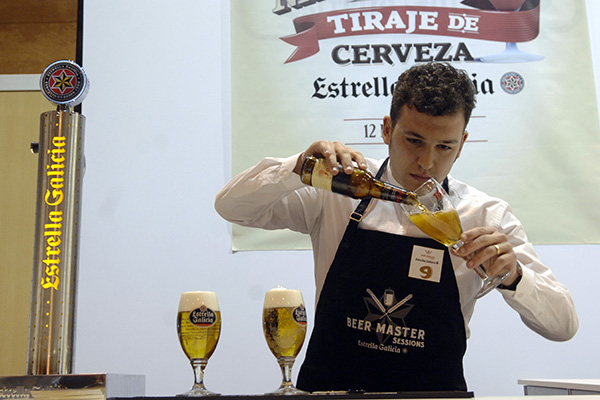 Throughout the morning, the First Spanish Estrella Galicia Draught Beer Pulling Championship has been taking place at the Salón de Gourmets in Madrid. Thirty participants from all over Spain have battled through the different rounds in order to win the title of best beer puller, cheered on by the large number of public who attended the event.
After different rounds in which they had to demonstrate their ability to serve draught and bottled beers, and answer a variety of questions about the brewery world, Daniel Giganto Arias, from the Restaurante Amancio (Leon), was proclaimed champion. The young catering student from A Coruña, Sebastian Greenhalgh, came second.
The runner-up prizes were won by Diego Braga (Leon), Jopi Hidalgo, (Madrid) and Juan Bernardo González (Alpedrete), all of whom qualified amongst the five finalists and after a very close final round.
The objective of the championship is to promote the brewery culture and acknowledge the work carried out by bartenders as an essential link in the distribution chain of Estrella Galicia products. A professional service is essential in catering in order to offer the end consumer the whole spectrum of possibilities that the Estrella Galicia range of products contains.
The jury was made up of beer pulling, catering and gastronomy experts, such as Fernando Iglesias, Estrella Galicia Market Quality Manager, Carlos Maribina, journalist and food critic for the Spanish newspaper ABC, Xurxo Rivas, sommelier and winner of a number of specialist contests, and co-owner of Taberna O Secreto (A Coruña) and Luis Alvar, Estrella Galicia Master Brewer. All the members of the jury had to evaluate quality, efficacy and speed of service as well as the participants' knowledge about the characteristics of Estrella Galicia products.
After two eliminatory rounds, the winner and the runner-up were chosen in the final round, each receiving a cash prize of €1000 and €600, respectively. In addition, the following three runners-up received consolation prizes and all the finalists received a diploma and their weight in beer.