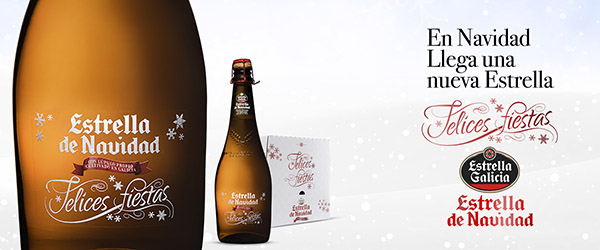 We present our traditional Estrella de Navidad, on this occasion in an innovative 75cl bottle format, with cork and wire hood, with which we aim to dress consumers' tables during this festive season so they can share and toast with their most festive beer.
Estrella de Navidad is a 100% malt beer made with our own hops cultivated in Galicia. We have bottled around 160,000 litres of this special limited edition beer which will be present off-trade from the beginning of November until stocks last.
Our master brewers  have worked yet another year to produce a different and special product that reflects the Company's beer tradition spanning over 100 years, and that meets the demanding quality standards set for the premium beers of Hijos de Rivera.
The bottle, apart from having an eye-catching 75cl format, contains Christmas motifs in red and white, typical of this season, and the message Felices Fiestas ("Seasons Greetings"). All on an adhesive label, as in previous years
Christmas Estrella can be purchased individually as well as in six-pack formats.