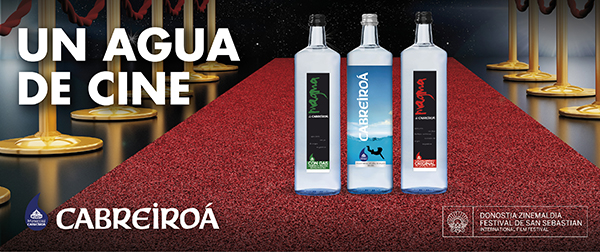 Once again Cabreiroá will get dressed up to become the official water at the San Sebastian International Film Festival. Our mineral waters will be present again at this contest held from 18 to 26 September. On this occasion it will accompany great stars such as the British actress Emily Watson, who will receive the Premio Donostia this year, and the singer and actor Raphael, who returns to the screens thanks to Álex de la Iglesia in the comedy "Mi gran noche".
They will be two of the protagonists of this 63rd edition of Zinemaldia, but other renowned faces such as Sienna Miller, Tom Hiddleston, Luke Evans, Ellen Page, Emily Blunt, Benicio del Toro and Ricardo Darín will also walk down the red carpet, as will directors such as George Miller, Denis Villeneuve and Alejandro Amenábar whose latest film, "Regression", inaugurates the event.
Cabreiroá and Magma de Cabreiroá will be at all the presentations during the festival, which will be held at La Concha beach, in Donosti, as usual. It is one of the most important events in Spain and also one of the longest-running and prestigious in Europe.
Cabreiroá's presence at the Festival goes back to 2011. In 2012, in order to commemorate the 60th anniversary of the contest, our water brand launched a special edition set of bottles whose labels reflected the Festival's history through its posters.
You can take part in a competition, via Cabreiroá's social networks, to win a two-night stay in San Sebastian and two tickets to attend the Festival with the person of your choice.