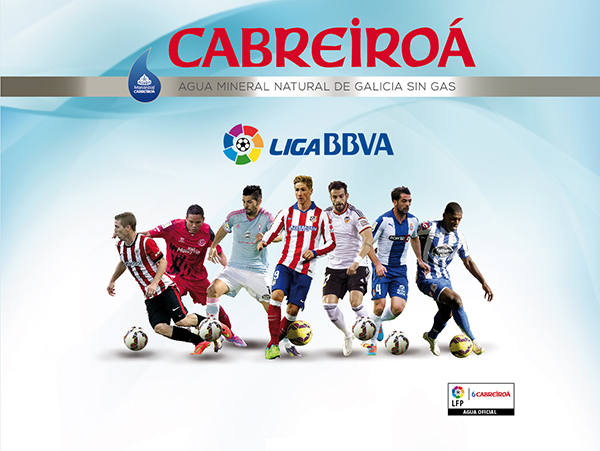 This week, our mineral water brand Cabreiroá has signed an agreement with the Liga de Fútbol Profesional (LFP) (Spanish Professional Football League) to be the official water of the Liga BBVA and Liga Adelante. This union has been signed for the next two seasons, 2014/15 and 2015/16.
This union has reinforced the existing relationship between Cabreiroá and Spanish football, which includes the sponsorship of the Spanish National Football Team as its official water since 2012 as well as the support it offers to the three main Galician football teams, Depor, Celta and Lugo.
In this way, Cabreiroá reaffirms its link to sport thanks to the characteristic balanced mineralisation of its water which has turned it into a reference in the field of hydration. In this sense, sponsorship such as that of the Liga de Fútbol Profesional will bring the water brand to the forefront in stadia, reinforcing its image as a source of vitality and health associated to sport.
The Galician premium brand mineral water has, in recent years, demonstrated strong commitment to the renovation of its formats, widened its range and launched campaigns and sponsorship, making Cabreiroá consolidated as a prestigious operator in Spain.