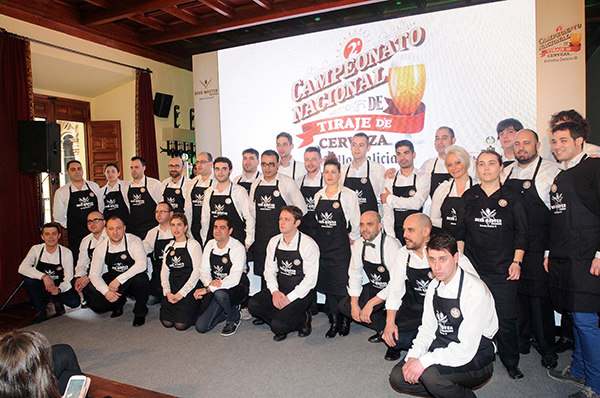 Throughout the morning the Estrella Galicia Beer Pulling Championship in Castilla y León has been taking place in the Parador de San Marcos in León. A total of 30 aspirants from different parts of the region have been battling though the different rounds to win the best beer puller title, supported by the public present at the contest.
After a number of phases in which they had to demonstrate their skill at serving draught and bottled beer, and answering questions about the word of beer, Alfonso Martínez, owner of La Ferretería in Benavides de Órbigo (León), has won Best Beer Puller in Castilla y León. The runner-up was Pablo Librán from Restaurante Cervecería el Casino in Villafranca del Bierzo. Both will represent the region at the National Championship to be held at the Salón de Gourmets de Madrid in April, and will receive €600 and €400 respectively, as well as their weight in beer.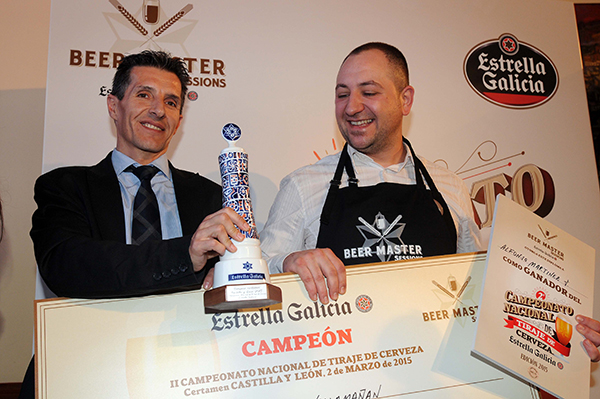 The champion, Alfonso Martínez, admitted that he had been very nervous during the contest, and expressed his delight at winning a contest that he had entered because "a competition of this type" had caught his attention. He stated that he felt "a great sense of responsibility having to represent Castilla y León at the National Championship".
A total of 5 aspirants reached the grand final. The other three were Ángel París from Bar el Rincón in Carrión de los Condes (Palencia), Marcelino Navajo from la Taberna el Reloj in Tati de Fuentepiñel (Segovia) and Marcos Manuel Villalibre from K-Lada in Fuente Encalada de Vidriales (Zamora). They won their weight in beer, and a consolation prize of €150 as well as a diploma accrediting their qualification.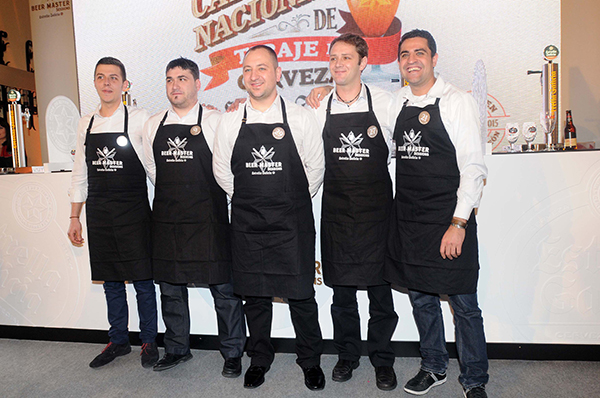 The jury was made up of experts from the beer, catering and restaurant sectors such as Fernando Iglesias and Xabier Cubillo, from the Quality Department of Hijos de Rivera, and Daniel Giganto, from León, winner of the Estrella Galicia Beer Pulling National Championship 2014 and Oscar Quintana Negreira, maître-sommelier of the Parador de San Marcos of León. All had a difficult task, as the participants' level was extremely high. Fernando Iglesias, chairman of the jury stated that of all the competitions he had seen, "this one has had the some of the highest level of skill".
The next stop for our Championship will be Galicia, from where another champion and runner-up will go straight to the grand final in April at Gourmets, in Madrid. A new challenge in which Estrella Galicia will once again be the absolute protagonist.