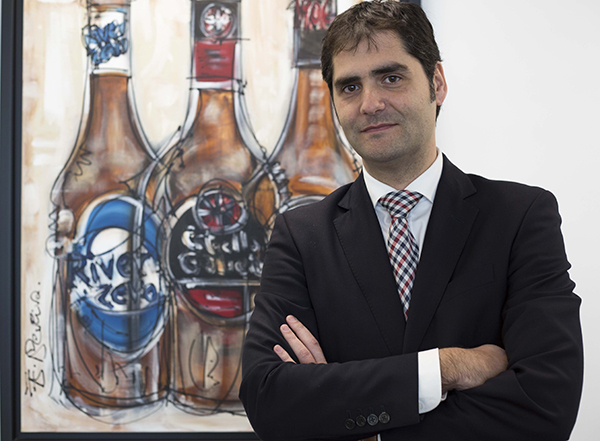 How has the distribution business adapted to the Company's unstoppable activity over the past few years?
2014 was a year of changes for the Distribution area, and we adapted our structure in order to become a national operator. To do this, we created a differentiated management to develop the Company's distribution portfolio. In the Distribution Business and Services area, we have also focused our efforts on strengthening and promoting the after-sales service, adapting to individual customers' needs and maintaining the level of quality that we offer.
How has the new department been organised since 2014?
As head Management of this new area, which is dependent on the General Commercial Management, I will soon have the support of a Director of New Products, which is a newly created post, and also that of after-sales service Coordination.
The Director of New Products will be responsible for the imported beers catalogue and will be in charge of seeking out new business opportunities. This position involves being responsible for the beers in the SAB Miller, Erdinger and Duvel Moorgat group, and the soon to be incorporated beers in the O'Hara's group. He will also be in charge of six Brand Ambassadors located in the Balearic Islands, Galicia, Barcelona, Madrid, and Andalusia. These ambassadors will be responsible for developing imported beers and our ciders as well as providing training for the staff in charge of selling these products, just like the Wine Ambassadors in Galicia (one in the North and the other in the South).
There is also a Head of Trade Marketing on the team, a liaison who helps me coordinate the whole distribution area on a national scale, as well as a person who carries out back office and commercial management tasks.
After-sales service coordination is based on four links located in Galicia, Madrid, Barcelona, and Cádiz; there is also a Central Management Services department which manages the facilities' maintenance, stock control, tank storage and management.
All the personnel in the Distribution and Services area work closely with the commercial department. We transmit the brands policies to the team, we monitor our strategic customers and we support their activities with advertising and specific events.
The business' main objective is to become a national operator. What measures are you planning to implement in order to achieve this strategic plan?
We want to promote the distribution business in key areas such as Galicia, Madrid, Portugal, and Costa del Sol, where we have our own facilities. We will conduct a product-based strategy from there by exploring new opportunities and enhancing our portfolio; we will provide training for our team, especially to the Brand Ambassadors and Wine Ambassadors; we will introduce a new management model, with differentiated profit and loss accounts, as a tool for better monitoring and negotiating with our suppliers and, finally, through the technical service, we will generate close links to the area and maintain the level of quality.
How is this high level of quality maintained by the after-sales service coordination?
We are working in conjunction with the department of Cerveza de Bodega e Innovación (Cellar Beer and Innovation) to be at the forefront of draft beer systems, both at a technical and design level. We are also planning some events to provide technical support and material to the Marketing and Trade Marketing Departments; in the main areas of brand communication (motorbikes, music, and football), by being present in all the main Spanish Motorcycling Grand Prix and at the biggest music festivals, as well as in the major sector fairs, involving a great amount of technical and human resources.
What are the main brands we are distributing? How many references do we currently have?
We closed last year with 264 references and our goal is to continue increasing the number of products in the next three years with a revenue target of over 30 million euros. We currently have prestigious brands in our catalogue including Schweppes (Trina, La Casera, Vida…), Custom Drinks products (Maeloc, Licores Hijos de Rivera and Quenza, Zuvit…), wines PSI (Pingus and Flor de Pingus), Cillar de Silos, Vallobera, Ponte da Boga, Abadía Retuerta, Belondrade, Troante and Terramaior; Cola Cao, Red Bull, Granini juices and the international beers SAB Miller, Erdinger and Duvel Moorgat.
In the future, the idea is to continue approaching the world of wine and champagne, shortly adding new brands and developing specific facilities for some delegations such as wine racks with controlled temperature and humidity levels to keep the wine in perfect condition. We will also develop tasting rooms in our commercial facilities in order to have close links with our customers and provide training for our commercial teams.
Within our portfolio, which aspect will be developed with the greatest intensity in the future?
The Company's strategy is to strengthen the beer and water divisions. In this respect, over the coming years imported beers will be particularly relevant as a product to be developed on a national scale in order to support our beers division, as well as looking for new water references that will make our portfolio even more prestigious. These products complete it and allow us to reach the customers with a larger range than our competitors.
VERY PERSONAL:
Age: 38
Marital status: married
A meal: arroz a banda (rice on the side)
A drink: Estrella Galicia Especial
A hobby: playing the guitar, swimming
Favourite city: Buenos Aires
A book: The War of the End of the World (Vargas Llosa)
A film: The Shawshank Redemption
A song: Entre dos aguas (Paco de Lucía)
A moment: the birth of my children
A challenge: continuous improvement
Something you hate: lies
An excuse: Let me think about it