Just four months after its launch, 1906 Galician Irish Red Ale wins its first international award in a reference competition within the brewing world, the Meiningers Craft Beer Awards.
The Meiningers Craft Beer Awards, held in Nuremberg (Germany), have awarded a silver medal to "La Pelirroja" in the Red Ales/Amber Ales category. In this way, the new member of the 1906 beer family receives its first prize in the multi-award winning range to which it belongs.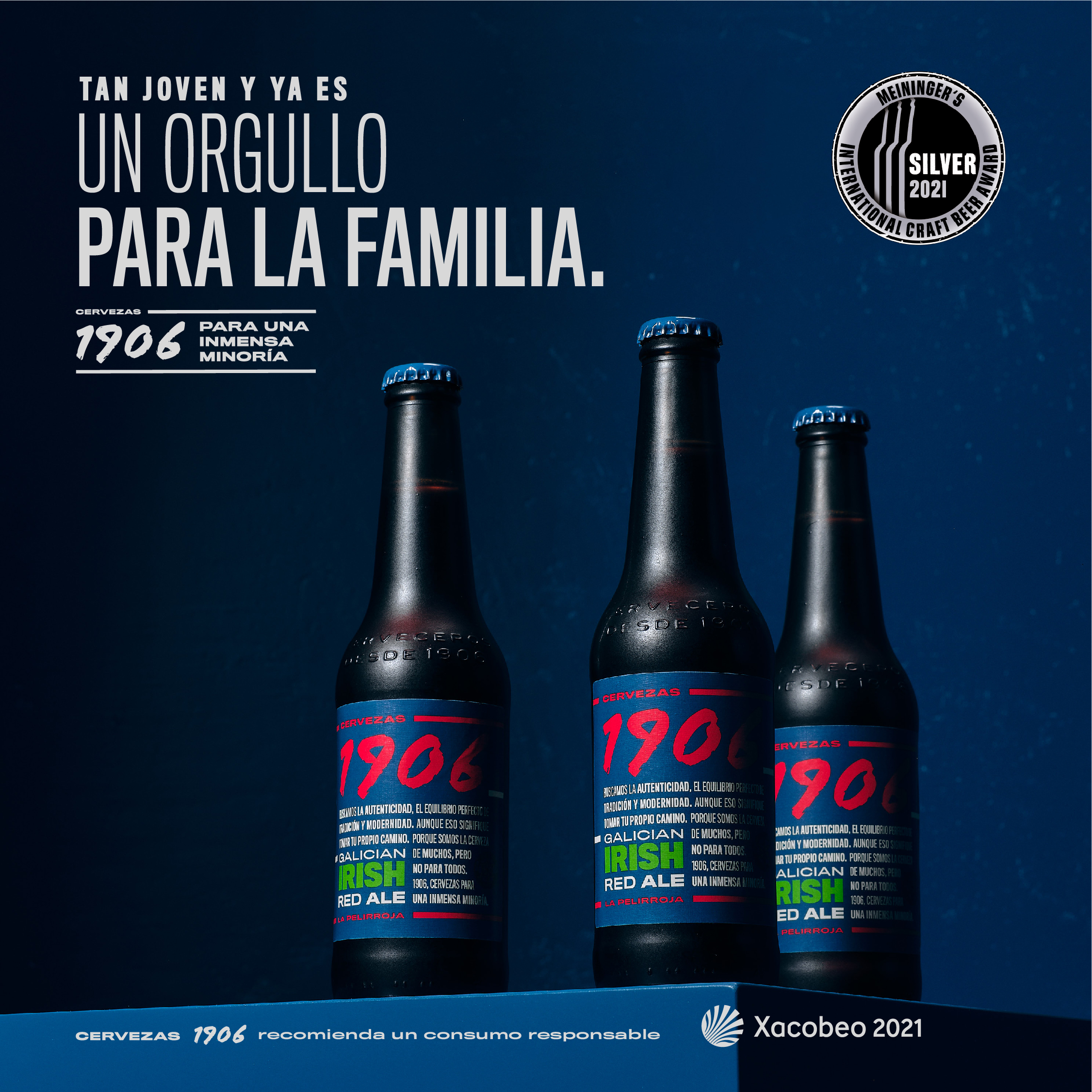 The 1906 beer family is celebrating the first international recognition of its youngest member: the 1906 Galician Irish Red. Just four months after its launch, the beer known as "La Pelirroja" gets its first award, this time in a reference contest in the brewing world.
The Meiningers Craft Beer Awards is held every year in the German city of Nuremberg and rates beers from all over the world within their respective specialities. It is organised by Meininger Verlag, one of the oldest and most renowned publication in the beverage industry in Germany.
In this case, the 1906 Galician Irish Red has won a silver medal in the Red Ales/Amber Ales category, a great success for beer that has just recently reached the market.
Irish style with Galician accent
The Galician Irish Red Ale "la Pelirroja" is product of the joint work of the master brewers of the Galician company and the Irish O'Hara's. It was presented as Hijos de Rivera's first collaborative beer and also the first high fermentation one, an Ale beer that arrived to enrich this demanding beer range, intended for "an immense minority", which already includes 1906 Special Reserve, 1906 Red Vintage and 1906 Black Coupage.
It contains four varieties of hops and four types of malt: Pale Ale, toasted malt, caramel malt and, for the first time, roasted malted wheat. To this combination of ingredients is added the use of a high fermentation yeast and application of the dry hopping technique during the maturation of beer.
A long list of distinctions
In addition to the most recent Meininger Craft Beer Awards, the 1906 family has received many other awards in the last few years that have placed it as one of the best beers in the world. This is the case with the European Beer Star, the World beer challenges, the Craft Beer Awards or the World Beer Awards, among others.


This family of beers from the Hijos de Rivera company accumulates a long list of prestigious distinctions that surpasses 75 international awards throughout its history.S