This morning, at our Estrella Galicia beer hall in Vigo, we presented the latest news about the sixth edition of the Festival PortAmérica, the charismatic festival of the Rías Baixas which will fill the Galician town of Caldas de Reis, in Pontevedra, with music and gastronomy between 13 and 15 July.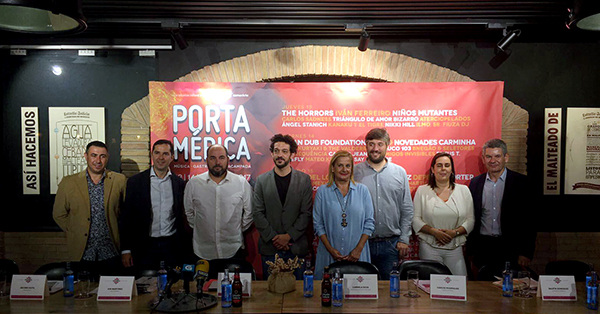 Joaquín Martínez, director of PortAmérica and Esmerarte Industrias Creativas; Carlos Rodríguez, deputy director of PortAmérica and Esmerarte Industrias Creativas; our colleague Víctor Mantiñán, SON Estrella Galicia y 1906 product manager; Saleta González, responsible for sustainability at PortAmérica, Manuel González, deputy Mayor of Caldas de Reis; Jacobo Sutil, director of AGADIC; Santos Héctor, Tourism councillor for the Rias Baixas; and Carmela Silva, president of the Diputación de Pontevedra, revealed this morning at the Cervecería Estrella Galicia in Vigo all the details for this 6th edition of the Festival PortAmérica, which will take place between 13 and 15 July in Caldas de Reis.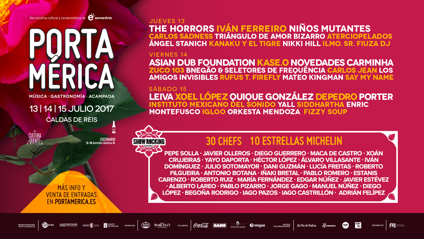 THE SHOWROCKING: COCINANDO EN EL FIN DEL MUNDO (COOKING AT THE END OF THE WORLD)
Gastronomy is, once again, one of the great protagonists at the Festival. PortAmérica will welcome a perfect fusion between rhythm and food during its three days: Showrocking "Cocinando en el fin del mundo" ("Cooking at the end of the world"), with 30 international chefs with 10 Michelin stars, and a great Galician representation, that, commissioned by Pepe Solla, will delight the attendees with unique "pinchos" especially created for the Festival. This year young Galician gastronomy future promises will also be present, new values that are promoting and spreading our culinary tradition.
All of this together with students from Galician catering colleges, who will have a unique opportunity to learn at the side of great names. Those interested in being part of the helpers' team can contact the Festival organisers at gastro@portamerica.es.
As usual, there will also be surprise performances on the ShowRocking stage, undoubtedly one of the PortAmerica essentials.
The ShowRocking at PortAmérica won the Premio Fest (Fest Award) for the best Gastonomy zone in 2015.
See here the chefs who will be at PortAmérica 2017.
"CICLO REFLEXIONES": "EL VALOR DE LA GASTRONOMÍA" ("The value of Gastronomy")
The Festival PortAmérica inaugurates a new activity linked to cooking at this edition: Chats and talks about the evolution of gastronomy. This is, undoubtedly, a profession that has radically changed very quickly. During these sessions, there will be an attempt to come to some conclusions about its future.
The format will be round tables and debates, which will be chaired by great culinary names, and will include other activities, who will all offer their opinion about such a relevant subject for our region.
MUSIC PROGRAMME
A careful selection of international artists, with 10 different nationalities, makes a varied line-up with great names from their respective countries, and ample representation from Spain and Galicia, adding 32 proposals.
They will all play on one of the 2 stages at the Carballeira de Caldas de Reis. One of the stages will be our brand's, Estrella Galicia, as sponsor of the event right from the very first edition.
Great artists such as Quique González, Leiva, Iván Ferreiro and Niños Mutantes, among others, will all take the stage at the Festival.
See here all the artists that will be at PortAmérica 2017.